Best Overall
ASICS Gel-Resolution 8
Superb Durability
PHF Glove-Like Fit
Excellent Traction
Premium Choice
Nike Court Lite 2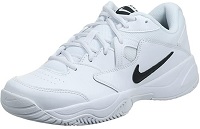 Dynamic Fit System
EVA Midsole
Visible Max Air Unit
Great Value
Adidas Gamecourt
Lightweight Upper
Shock-absorb Midsole
Adituf Toe Protection
Important Note:-
When looking for the best tennis shoes, consider the type of court you'll be playing on, your playing style, and the level of support and cushioning you need. Look for shoes with durable outsoles, comfortable and breathable uppers, and a snug fit that provides stability and prevents injuries.
Tennis shoes have surged in popularity in the market after their increased demand, which is a good thing but the trend has somehow made choosing the perfect pair more challenging for players. Despite all efforts that you encounter in finding the best tennis shoes, the struggle to find the right size and fitment stands at the top because of variation. In this article, I'll try my best to recommend a bunch of products by the world's famous court shoe brands for your assistance.
In general, the best court shoes for tennis are the ones that feature a better grip on the court, provide ankle and toe protection, and bring better stability and traction. If you're buying tennis shoes for outdoor courts, consider breathability and resistance in the first place. In short, tennis shoes can directly impact your performance on the court, so you should get a suitable pair.
We have other posts for women's tennis shoes and kids tennis shoes. You can check them out for details.
How We Test Tennis Shoes
TennisReviews is created with the sole purpose to share the experience of product users with the audience. If you take a look at the review sites in the industry, you will realize that most of them are just there to promote various stuff.
While on the other hand, we (the writers of each article) test our product and then share the experience with the users. If you are curious about how we test that number of products,
– We are active in sports and get the chance to try different Best Tennis Shoes available on the market.
– We have colleagues that help us test the products.
– If a product can be used general audience, we take it up to the public. For example, in the case of Best tennis Shoes, we took these to 176 random people from the public and ask them to wear these. Then we asked them about various points which have been mentioned in the article.
List of 16 Best Tennis Shoes 2023
Let's look at these great tennis shoes one by one:
1

. ASICS Gel-Resolution 8 – Best Court Shoes For Tennis
Shoe Specs
Brand: Asics
Model: GEL-Resolution 8
Weight: 14.2 Ounces
Arch: Medium
Amazon Rating: ⭐ ⭐ ⭐ ⭐ ⭐
Top Features
FlexionFit design
PGuard protection
Gel and SPVA 45 cushioning
Glove Like fitting
AHAR+ outsole
The first choice on this list is ASICS Gel-Resolution 8 which is a complete product loaded with a bunch of technologies and advanced systems that provide the most supportive, mobile, and stable experience to players. As I said earlier, the court shoes are your base, which is why you should choose them correctly according to your food dimensions and comfort level. The Gel-Resolution 8 is available in almost all sizes and you can find the details for proportions in the description section of the product.
When buying the best tennis shoes, the material choice stands out as it is a determining factor that helps you assess the durability, resistance, and stiffness of the product. The tennis shoes are divided into three sections: upper, middle, and outsole, let's discuss! The upper of the Gel-Resolution 8 is pretty flexible and grips your foot like a sock without letting you sacrifice comfort or support. You'll not feel your foot sliding in this shoe at any point, regardless of whether you're playing tennis or doing any other activity.
The midsole of these best tennis shoes ever made is based on the special and patented DYNAWRAP technology that provides unmatchable stability. It aims to keep your foot in the midst of the platform of your shoe and avoid unwanted movements and vibrations. This way you will not feel distracted from the game. In addition, the outsole of the Gel-Resolution 8 is made of highly durable rubber that resists external impact factors and delivers high abrasion and stiffness.
Pros
Seamless upper to eliminate the possibility of blisters
Lace-up closure
Feature reinforced heel counter for stability
The extra layer of rubber
Provide maximum traction
Cons
Limited color selection
Not stretchable
The ASICS Gel-Resolution 8 is a top-notch tennis shoe pair that is loaded with a bundle of technologies including the DYNAWRAP which adds superior stability and the Trusstic system which aims to cut down extra weight, making this footwear extremely lightweight and maneuverable. It is a supportive shoe pair that will elevate your court performance by adding better mobility and traction throughout the round.
2. NIKE Court Lite 2 – Best Mens Tennis Court Shoes
Shoe Specs
Brand: Nike
Model: Court Light 2
Weight: 13.0 Ounces
Arch: Medium
Amazon Rating: ⭐⭐⭐⭐⭐
Top Features
Lightweight durable upper
Phylon cushioning
Midfoot twist prevention
GDR outsole
Modified herringbone pattern
Buying the best tennis shoes is a tedious task especially for inexperienced players because you've to shortlist abundant things. But the Court Lite 2 by Nike has reduced the effort by launching this versatile pair that is suitable for both beginners and professionals. Even if you're a recreational tennis player, you can appear on the court with these.
It is made of high-quality leather material that looks valuable and premium, but the only drawback associated with leather shoes is breathability as leather is not porous. To fill the gap, Nike has added textile fabric to improve the ventilation of this shoe and make it roomy, comfortable, and airy for players. In addition, the Court Lite 2 has a rubber sole that adds cushioning and comfort to the foot for a long time.
Ankle injuries are most likely to be reported in tennis players, and non-supportive shoes are one of the major reasons. Likewise, to reduce the chances of any accidental happenings or injuries, the Court Lite 2 has a padded collar that gives relaxation to your ankles. Believe me or not, this shoe feels like home to your feet.

Pros
Lightweight and durable
The shoe has a cushioned insole
Breathable upper with synthetic leather lining
Durable rubber outsole
Cons
The laces are long
Fabric is not waterproof
The Court Lite 2 by Nike is the number one court shoe for their unsurpassable cushioning element. This pair is built with premium leather and textile that looks valuable and delivers durability and traction without compromising on breathability. Nevertheless, if you are a beginner, recreational player, or pro tennis player, the Court Lite 2 is suitable for all.
3

. Adidas Gamecourt – Best Tennis Shoes 2023
Shoe Specs
Brand: Adidas
Model: Gamecourt
Weight: 13.3 Ounces
Arch: Medium
Amazon Rating: ⭐⭐⭐⭐⭐
Top Features
Soft and cozy feel
Adituf protection
Shock absorbent cushioning
Padding for comfort
Adiwear 6 outsole
If you're looking for the most comfortable tennis shoes, there is no competitor to Gamecourt by Adidas. All thanks to its special Cloudfoam midsole that softens your step every time you exert pressure. It would be right to say that you'll not feel tired or ached even after wearing these shoes continuously for hours.
The Gamecourt tennis shoes by Adidas are made of porous mesh material. The pores on the mesh material facilitate air passage and keep the inner side well-ventilated and healthy for your feet. For your information, this aspect is extremely important because dampening conditions can give birth to fungal infections and other skin problems.
Adidas is the top brand, that everyone is aware of, for producing the most innovative and advanced sneakers. The brand is not only keeping the comfort and stability of the consumer in mind but also side-by-side playing a major role in combating issues like plastic pollution. In this sequence, the Gamecourt by Adidas follows the Three Loop strategy that refers to the consumption of recyclable materials. In a nutshell, these court shoes will reduce your carbon footprint, so are you ready to take a step toward a greener era?

Pros
Durable outer shell
Breathable mesh upper for improved air circulation
The rubber outsole provides excellent traction
Lace-up closure ensures a secure fit
Cons
The shoe runs small
The shoe opening is a bit small for wide feet
The Gamecourt by Adidas is a remade court shoe that aims to reduce environmental pollution without letting you compromise on comfort, traction, and performance. These shoes are extravagantly comfortable and relaxing and will keep you away from any sort of accidental happenings or injuries.
4

. New Balance MC696 V4 – Best Tennis Shoes New Balance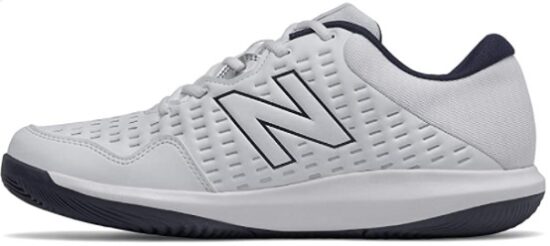 Shoe Specs
Brand: New Balance
Model: MC696 V4
Weight: 15.5 Ounces
Arch: Slightly Low
Amazon Rating: ⭐⭐⭐⭐
Top Features
Durable upper
REVLite cushioning midsole
Shock removing midfoot
ABZORB & ROLLBAR
NDurance outsole
Flex your skills on the tennis court proficiently with the New Balance court shoes that are synonymous with value for money. Unlike expensive and overrated tennis shoes, the V4 by New Balance is pretty affordable. But that doesn't mean any compromise on performance as these shoes add superior durability, stiffness, and traction.
The New Balance V4 court shoes come with a mesh upper that is exceedingly flexible and breathable. The mesh fabric fixes your feet in the shoe like a sock and promotes a comfortable and relaxing experience. If you have a bit narrower or wider feet than the standard size, the New Balance V4 will be perfect for you because of the completely adjustable lace closure. In short, you can customize these best tennis shoes as per your feet size.
Tennis shoes are more expensive than your casual sneakers for multiple reasons, like superior build quality, better traction, supportive midsole, and so forth. So, it is not possible to afford tennis shoes every month, right? In this sequence, you should choose the durable one first place that will not break for a long time like V4 by New Balance.
Play on any surface with confidence!

Pros
All-over mesh upper for breathability and ventilation
Rubber outsole with a herringbone pattern
Features RevLite for lightweight cushioning without
Roomy toe box for toes to move freely
Cons
A bit noisier
No other cons
The V4 by New Balance is best suited to players who're tight on budget. Alongside being cost-effective, these best tennis court shoes men's 2023 will benefit your performance by bringing high comfort, traction, and stability.
5

. Adidas barricade 12 – Best Tennis Shoes For Youth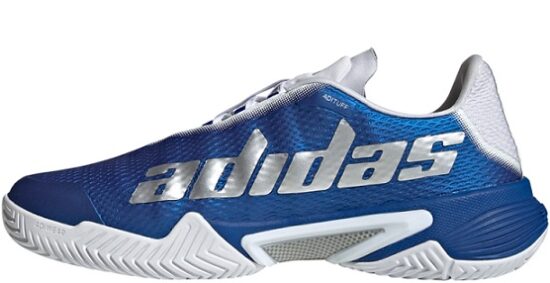 Shoe Specs
Brand: Adidas
Model: Barricade 12
Weight: 14.6 Ounces
Arch: Medium
Amazon Rating: ⭐⭐⭐⭐⭐
Top Features
Seamless Textile upper
Geofit construction
Bounce 2.0 Midsole
Adiprene+ in forefoot & rearfoot
Adiwear outsole
You need to carry the shoes on your feet, right? So their weight matters because a heavier or bulkier shoe will resist your movement and make sports like tennis more difficult. Likewise, the rule of thumb is to get the most lightweight and maneuverable shoes. With that said, there is no better choice than the Adidas Barricade 12 because it is strong yet light like a feather.
The upper of the Barricade 12 is of textile material coupled with a lacing system to let you customize the fitting. Please make sure to lace up the foot precisely: neither too tight nor too loose, just a firm grip that keeps the foot in place. In addition, the RPU is added to elevate the durability of this shoe as the upper part is exposed to environmental impact factors.
The Barricade 12 has a BOUNCE midsole with a patented torsion system that aims to maximize stability and traction. It avoids unwanted movements and vibrations and lets the player focus on the game. Whereas the outsole follows the latest Herringbone design that enhances the resistance and keeps your feet protected and secured.

Pros
Designed to help you keep your balance
Shock absorption, and stability
Plenty of support for quick movements
The lacing system is easy to adjust
Wider toe box
Cons
A bit wider for narrow feet
Some people think the colors look too similar to other Adidas products
The Barricade 12 by Adidas is famous for its customized fitting and highly stable Torsion system midsole. This shoe pair will not distract your attention from the game and provide a consistent comfort and stable experience.
6

. Asics Gel-Challenger 12 – Best Tennis Shoes For Durability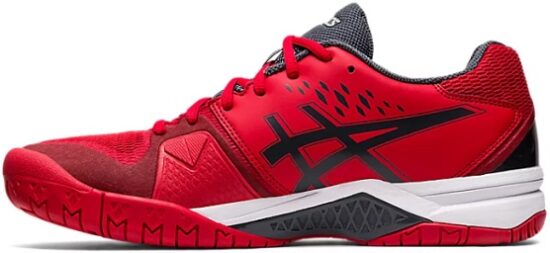 Shoe Specs
Brand: Asics
Model: Gel Challenger 12
Weight: 12.4 ounces
Arch: Medium
Amazon Rating: ⭐⭐⭐⭐⭐
Top Features
Flexionfit Upper
PGuard protection
P.H.F rear foot fitting
Soylte cushioning midsole
Gel technique at rear and fore foot
Tennis shoes that are too stiff are uncomfortable to wear for long periods of time.
Why Buy It?
The Gel-Challenger 12 tennis shoe from ASICS has an innovative mesh upper with a synthetic overlay, so it is comfortable and breathable enough to wear all day.
It also has the GEL cushioning system in the heel, which makes it great for people who play on hard courts.
Upper Sole
ASICS is delighted to bring you the newest in ASICS product research.
After years of painstaking work, they have finally perfected the Gel-Challenger 12 tennis shoe with an improved upper sole designed for great oxygen flow.
You will not wear another pair of shoes after putting your feet into these Gel-Challengers.
You will feel like you're walking on a cushiony cloud. It is so light and flexible, it feels as if you are barefoot but without any pain.
Midsole
These best tennis shoes are for you if you want to go just a little lighter and faster. The ASICS Men's Gel-Challenger 12 Tennis shoe sport light and bouncy Solyte Midsole material leave your feet feeling good, mile after mile.
Stay on the court longer with enhanced cushioning that will not quit. You will be there all day long thanks to new durable materials that absorb shock from every direction.
The GEL technology provides Under-laying support in the fore and rearfoot to increase stability when making quick movements.
Outsole
These best men's tennis shoes feature an AHARPLUS outsole to help reduce the effects of wear.
The modified herringbone tread pattern offers a strong grip on all courts, especially on hard courts.

Pros
Designed for stability and comfort
Offers a snug, sock-like fit that is breathable & lightweight
Durable rubber outsoles with deep flex grooves
The lacing system is easy to adjust
Excellent arch support
Cons
A weird clicking noise
Color options are less
7

. Adidas Adizero Ubersonic 4 – Most Durable Tennis Shoes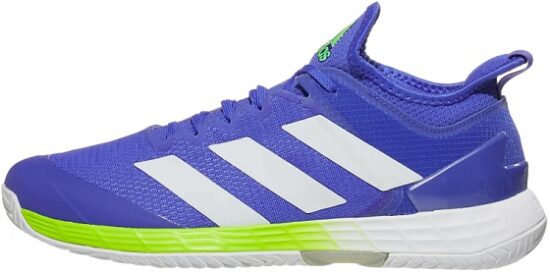 Shoe Specs
Brand: Adidas
Model: Adizero Ubersonic 4
Weight: 11.3 Ounces
Arch: Medium
Amazon Rating: ⭐⭐⭐⭐⭐
Top Features
Breathable and flexible upper
Adituff protection
Bootee construction
Bouncy cushioning midsole
Adiwear outsole
Playing tennis on hard courts can be tough on your feet. The court surface is unforgiving, which means you need a shoe that will support and cushion the impact of every shot.
Why Buy It?
Adidas Adizero Ubersonic 4 Tennis Shoe is designed with a sock-like fit that hugs the foot like no other shoe in its class.
It is made from lightweight mesh and synthetic materials that provide breathability and traction control at high speeds.
A full-length outsole stabilizer helps ensure stability when changing directions quickly during play.
This men's tennis shoe has an all-over patterned design for enhanced style points while playing competitive matches or practicing drills indoors or outdoors.
Upper Sole
Be speedy. Be powerful. Be offensive!
This speedster is geared for the most agile athletes who want to beat on the court or track.
Catapult faster, boost harder with the stretchy seamless mesh upper that provides breathable comfort no matter how hard you go.
A reinforced toe for extra durability so you do not hit your toes while sprinting out of bounds and can win more often than not.
Midsole
Built to chase down every shot, the Ubersonic 4 shoe gives you that extra boost of lightness with its specifically engineered Light strike midsole.
With low weight and ultimate breathability in these best tennis shoes, your feet stay comfortable for hours upon hours on the court.
So go ahead and make moves like Nadal in these best tennis shoes.
Outsole
An iconic style turns heads with a sleek design and a thick textured livery for grip. The light strike, lined in soft textile, provides cushioning to keep you comfy on long hours of negotiations.
Slip-resistant after that incident at TIPS pays day when you accidentally spilled coffee all over them, thanks to the Adiwear outsole.

Pros
Provides a responsive ride
Durable outsole for traction on different surfaces
A mesh tongue helps keep your feet cool
High-quality material
Tested by professionals
Cons
Shoe laces are thin
The shoe is bit expensive
8

. Wilson KAOS Swift- Best Sneakers For Playing Tennis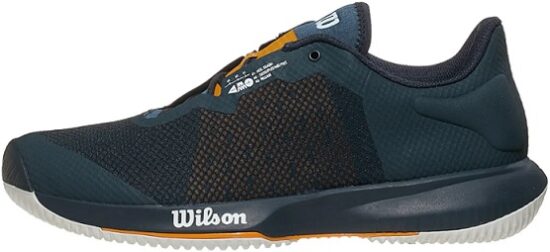 Shoe Specs
Brand: Wilson
Model: KAOS Swift
Weight: 13.4 Ounces
Arch: Low
Amazon Rating: ⭐⭐⭐⭐⭐
Top Features
Synthetic materials at upper
SkinGuard and 2D-FS protection at top
Eva cushioning
Flexible heel cushioning
Duralast outsole
Tennis is a high-impact sport that takes its toll on your feet. Most tennis shoes are heavy, stiff, and bulky, leading to soreness and fatigue in your feet.
Why Buy It?
Wilson Men's Kaos Chassis Tennis Shoe offers an excellent combination of comfort, style, and performance.
This shoe has flexible arch support for superior agility and lateral support for increased torsional control and overall stability.
The mesh lining helps keep your feet cool during long matches by keeping moisture away from skin levels, while the cushioned footbed enhances shock absorption during every play session.
Overall this is one of the best-rated men's tennis shoes available today, so do not miss out.
Upper Sole
If you are looking for a shoe to carry you through your sand-filled summer, then these are the shoes for you.
With its thick rubber bottom and mud-resistant mesh material, this shoe can withstand what Mother Nature throws at it.
If you are looking for something more than just tennis shoes, look no further than the Wilson Men's Tennis Shoes.
Midsole
The Wilson Men's Tennis Shoe features a midsole designed to help your foot absorb shock and give all-day cushioning, so you can play to the fullest.
These best tennis shoes with support have molded foam to keep comfort in check while providing a custom fit for improved stability.
These shoes have been used for generations by pros on tour because of their high performance and durability.
The shoe includes a padded tongue and collar like your favorite pair of sneakers to help reduce chafing around the ankles during long games or training sessions.
Outsole
Wilson Men's Tennis Shoe is the all-in-one solution for playing in wet and slippery conditions.
The outsole of these best shoes for tennis features wet ground comfort to ensure that you can hold your footing in any situation, and its slip-resistant rubber gives you the sure grip and traction that will take your game to a whole new level.
Pros
Lightweight for easy movement
Excellent arch support
It has an antimicrobial sock liner
Durable synthetic leather
Cons
Shoe tongue is connected
The price is a bit high
9

. ASICS Gel-Game 8 – Most Comfortable Tennis Shoes For Men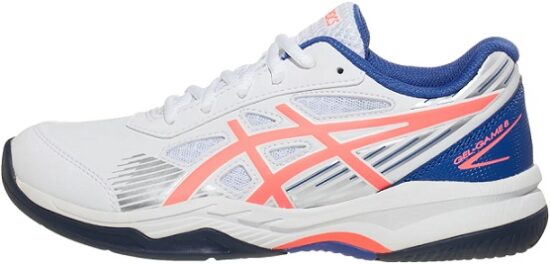 Shoe Specs
Brand: Asics
Model: Gel Game 8
Weight: 13.3 Ounces
Arch: Medium
Amazon Rating: ⭐⭐⭐⭐⭐
Top Features
Lightweight airy comfort
Ortholite Insole
Eva cushioning
Responsive forefoot & rearfoot
Ankle rolling protection
It's tough finding good-quality tennis shoes at affordable prices. You have to spend more time searching than playing. Buying online makes it worse because the sizes do not always match up with what you need.
Why Buy It?
The ASICS Gel-Game 8 is the perfect blend of comfort, style, durability, and affordability for any level player looking for their next pair of best tennis sneakers.
These men's training shoes are designed with synthetic leather uppers that provide support while allowing the natural movement of your feet during play or practice sessions.
Upper Sole
These fine ASICS shoes were designed with state-of-the-art technology, ensuring a comfort that you can not live without.
From using a mesh upper to create more ventilation and prevent the build-up of moisture to providing a lockdown fit for your foot while still maintaining flexibility, these best tennis shoes have it all.
The perfect gift for any surface!
Midsole
Many people buy different tennis shoes for various reasons, but you can't go wrong with these ASICS.
With the TRUSSTIC midsole technology embedded in the sole, stability is maximized so your feet will not knock around underfoot when chasing down balls without ever having to worry about off-court traction.
What could be better? Check out all our features below.
Outsole
The Gel-Game 8 is a shoe built for the standard tennis court, and with an AHAR rubber outsole, it is ready to outperform.
The Precision Guidance Line helps keep you on your toes with responsive performance that never lets up, and the ASICS premium foam offers superior cushioning with every step.
And as a bonus, these shoes are also able to handle grass!

Pros
Wide toe box for maximum comfort
Excellent arch support help with foot pain
Affordable & last a long time
They offer flexibility
Cons
The color is a bit too flashy for some people
No other cons
10

. Prince T22 – Best Tennis Shoes For Overweight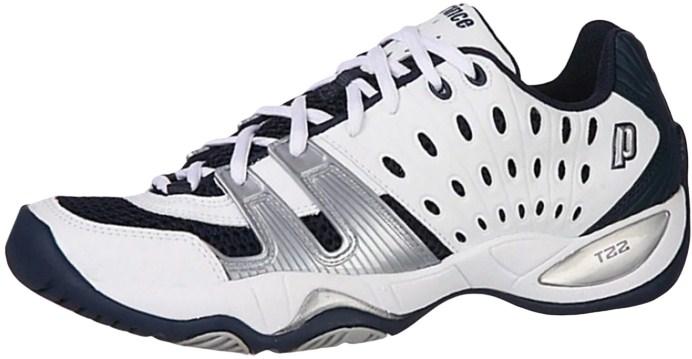 Shoe Specs
Brand: Prince
Model: T22
Weight: 16.6 Ounces
Arch: Slightly Low
Amazon Rating: ⭐⭐⭐⭐⭐
Top Features
Synthetic / mesh upper
Rash protection
Eva cushioning
Shock absorbent heel
PRC 1000 outsole
If you are a tennis player, you know how frustrating it is to have a shoe that does not fit properly or wears out too quickly.
The Prince Men's T22 Tennis Shoe solves this problem by combining the classic look of leather with the durability of synthetic materials.
Why Buy It?
The best shoes for playing tennis are made with high-quality materials and have an eye-catching design, so you can look great while playing tennis.
The shoes are designed for comfort and durability, so your feet will not get sore during long matches or practice sessions.
Upper Sole
With a TPU midfoot bridge for stability and a reinforced heel, the prince men's t22 tennis shoe is perfect for all-day wear.
These best tennis shoes feature a breathable mesh upper to provide optimal ventilation. The sole also contains EVA foam with cored zones to absorb impact from each step you take.
Midsole
These best tennis shoes for Achilles tendonitis feature a midsole with SpEVA material for more comfort and durability but are also designed to be lightweight and easy on your feet.
So whether you are the new varsity team captain or an everyday athlete looking for superior cushioning and lateral stability, this shoe has all it takes to keep up with your every move on the court.
Outsole
These slip-ones are as comfortable as they are stylish. The outsole features a glove for better stability on the court and max comfort during an intense match.
With extra cushioning and support, you will never regret making this purchase! They come in many colors, so go ahead and step on it today.

Pros
Good choice for beginners
An updated upper design
Improved cushioning
Designed with high-quality materials
Cons
The laces do not stay tied very well
Weight is a bit heavy
11

. Wilson Rush Pro 2.5 – Best Tennis Shoes For Beginners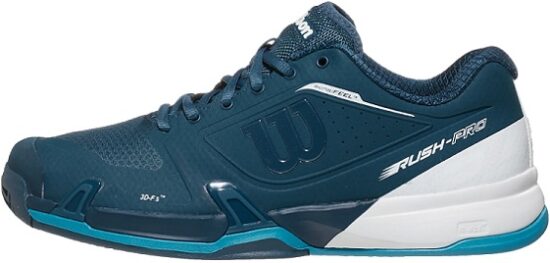 Shoe Specs
Brand: Wilson
Model: Rush Pro 2.5
Weight: 14.8 Ounces
Arch: Medium
Amazon Rating: ⭐⭐⭐⭐⭐
Top Features
Soft and durable upper
Low to ground feel
Endofit foot locking
R-DST+ cushioning midsole
Duralast  outsole
Tennis players want to look good when they play, but also need a shoe that can stand up to the intense demands of the sport.
Why Buy It?
The Rush Pro 2.5 offers a great fit without sacrificing style or performance on the court.
These best tennis shoes for beginners have an innovative Endofit sock-like design which provides a better fit than traditional laces while still allowing for natural toe movement so you can move freely on the court.
It also features lightweight cushioning in all of the right places.
Upper Sole
Wilson Men's Rush Pro 2.5 Tennis Shoe will be the stomping ground for all your opponents this upcoming season.
This shoe has improved durability and stability, making it incredibly comfortable and supportive.
The synthetic leather exterior prevents scuffs from keeping them looking great, but not quite as good as you feel.
Midsole
These Wilson tennis shoes are high-performance shoes that will put you ahead of the pack.
These professional tennis shoes blow other brands out of the water with exceptional durability and just the right amount of shock absorbance.
Wilson has innovated yet again with this premium model as they bring your feet to new heights.
Outsole
They say every game has its hero, and your feet are essential to victory. These shoes come equipped with features like Duralast rubber outsoles to provide you with that much-needed edge over the competition.
These best tennis shoes maintain a grip on any court surface while giving you plenty of space for your toes.
For an even more customized fit, lace up in these durable shoes for use in competition or training sessions alike.

Pros
Stable and comfortable fit
An asymmetrical outsole that provides traction
Made with synthetic leather
Durable enough for intense competition
Synthetic upper
Cons
They are expensive relative to their quality
They run small in size and width
12

. Adidas Defiant Generation – Best Shock Absorbing Tennis Shoes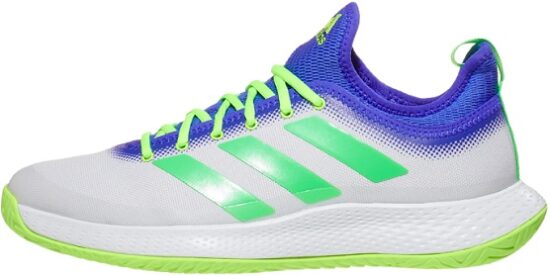 Shoe Specs
Brand: Adidas
Model: Defiant Generation
Weight: 13.0 Ounces
Arch: Medium
Amazon Rating: ⭐⭐⭐⭐⭐
Top Features
Heavy Canvas + mesh upper
Padded support
Eva comfort
Lock in fitting
Adiwear Outsole
The problem with most tennis shoes is that they're not very comfortable, and it can be hard to find a pair of sneakers that you can wear both on and off the court.
Why Buy It?
The best tennis sneaker has an upper mesh design allowing your feet to breathe while giving you maximum stability and support during playtime. They are also great for walking around town because they look like regular shoes.
Upper Sole
The upper sole of these light tennis shoes is made of sturdy exterior leather that supports lateral movement while still offering a breathable enclosure for your feet.
There is nubuck inside liner that provides durable cushioning for your walk back and forth from the aerobics room after a vigorous game on the court.
Midsole
Give athletes inspiration and performance without ever having to stop playing.
When you need some extra energy and the will to reach deep, take some on-court fuel and adrenaline from these best shock-absorbing tennis shoes that deliver ultra-responsive protection with an updated court feel for more dynamic play.
With a 3/4 length sole, these best tennis shoes are light enough for quick movements in any court position. The full-length EVA insole offers extended comfort where it is needed most in the heel.
Outsole
New to the Adidas Defiant Generation is an all-rubber outsole that adds durability and traction.
The narrow fit system distinguishes the Defiant Generation from other tennis models on the market, delivering customized security with every wear.

Pros
Mesh upper for breathability
Rubber outsole provides traction and durability on any surface
Midsole absorbs shock to reduce stress
Lace closure system
Cons
Good grip but a bit stiff
A bit less arch support
13

. Nike Air Max Vapor Wing – Best Shoes For Playing Tennis
Shoe Specs
Brand: Nike
Model: Air Max Vapor
Weight: 13.6 Ounces
Arch: Medium
Amazon Rating: ⭐⭐⭐⭐⭐
Top Features
Ventilated upper
Phylon cushioning
Max Air unit in the heel
Added lateral support and stability
XDR rubber Outsole
You do not want to go out there and get yourself injured or suffer from blisters, chafing, or other issues that come with running.
Why Buy It?
Nike's Air Max Vapor Wing Shoes are the perfect shoes for runners who do not want to deal with any of those problems.
These shoes have a mesh upper combined with a lightweight midsole made entirely out of air. The result is an incredibly comfortable shoe that looks great too.
Upper Sole
With the Nike Air Max Vapor Wing, you will never drop a fly ball ever again. The outside of the sole upper stretches to create grip and durability on grassy surfaces while providing lightweight support for all-day wear.
Plus, its visible air sole offers stability to every step, so your game will not suffer no matter which position or course you are playing at.
Midsole
The Nike Air Max Vapor Wing features an updated silhouette with a whole length air max unit in the heel, lightning midsole for a response, and phylon cushioning to keep your feet feeling fresh.
The rubber traction strip offers durability on all surfaces. You'll be able to sprint to victory in these.
Outsole
The Nike Air Max Vapor Wing is a shoe with a sleek and light design. The outsole of these highest rated tennis shoes is made from XDR rubber, which helps to increase durability and traction on most surfaces.
Get your pair now!
Pros
Lightweight
Full-length TPU foot frame to enhance control
Superior flexibility and comfort
Dynamic Fit system for glove like fit
Grip is excellent on hard court
Good Ventilation
Air Max for heel support
Cons
Limited edition shoe
No Other Cones
14

. Adidas Courtjam Bounce – Best Tennis Playing Shoes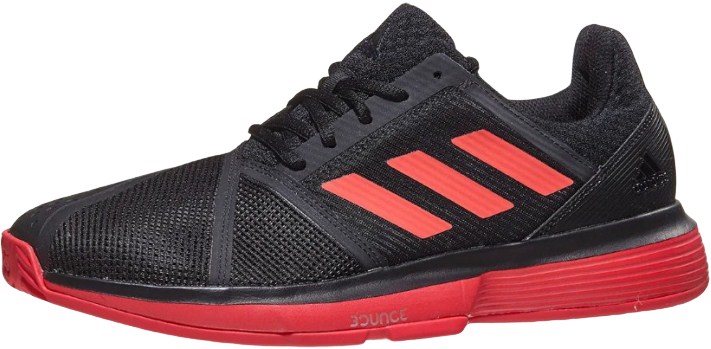 Shoe Specs
Brand: Adidas
Model: CourtJam Bounce
Weight: 13.5 ounces
Arch: Slightly Low
Amazon Rating: ⭐⭐⭐⭐⭐
Top Features
Comfort mesh upper
Adituff protection
Responsive + shock absorbent midsole
Adiwear outsole
TPU shank support
If you are staring for a tennis shoe that is comfortable, stylish, and durable, then the Adidas Court Jam Bounce men's tennis shoe should be your first choice.
Why Buy It?
This men's best tennis shoe features an upper of synthetic leather, which provides support while also breathable, so your feet stay cool even when playing hard on hot days out on the court.
The rubber sole gives you traction whether you're moving side-to-side or forward/backward during rallies.
Upper Sole
The Adidas Men's Courtjam Bounce Tennis Shoe is perfect for the on-court athlete.
This versatile shoe will provide comfort and stability while also giving you a leg up against your opponents.
Boost cushioning in the heel and foam padding in the tongue maximizes shock absorption and ensure that this lightweight tennis shoe can be used year-round.
Midsole
Breakthrough the fifth wall with clean lines and impressive grip.
These longest-lasting tennis shoes provide stability for every quick, agile movement on the court. The midsole is made of sponge rubber to decrease weight without sacrificing durability or shock absorption.
It also includes a cushioned sock collar that laces up securely at your foot's arch, making it perfect for lateral movements over hard surfaces during playtime.
Outsole
The Courtjam Bounce has the performance and durability to handle your every move on the tennis court, and it'll feel good too. Delivers a fast and comfortable response with each bounce and easy 360-degree rotation.
These best tennis shoes are built to please. You have never felt more agile on the court!

Pros
Great for players with a medium to high arch
Mesh uppers provide ventilation and durability
Bounce midsole provides lightweight cushioning and comfort
Durable rubber toe cap
Cons
Outsole is not non-marking
The colors do not last long
15

. Babolat Propulse – Best Babolat Tennis Shoes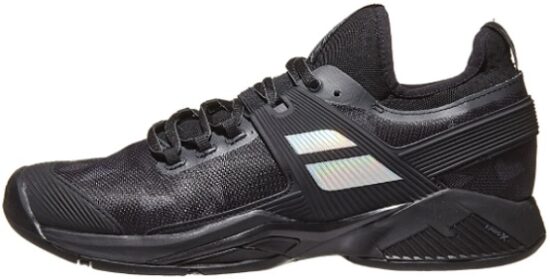 Shoe Specs
Brand: Babolat
Model: Propulse
Weight: 13.9 ounces
Arch: Medium
Amazon Rating: ⭐⭐⭐⭐⭐
Top Features
Mesh upper
Eva cushioning
Kompressor system under heel
Eva/Pu insole
Michelin rubber outsole
We all know that finding the right tennis shoes is a pain, but not with Babolat Propulse Tennis Shoes.
Why Buy It?
These best Babolat tennis shoes will have you playing at your best in no time. They are lightweight and provide excellent support for quick movements on the court.
The rubber sole gives you superior traction so you can stop or change directions quickly during a match to go up for a shot or move around an opponent who has just hit one of their shots back across the net at you.
Upper Sole
The all-new Babolat Men's Tennis Shoes are fighting for the lead spot in the audience with a spacious upper sole perfect for those who require footwear that can live up to their tennis hustle.
Made from patent leather, these tennis shoes with a wide toe box offer both comfort and protection as you go about your daily routine of crushing it on the court.
These lightweight shoes best fit feet sizes between 10 and 12 – 9.5E US Custom designed to morph into an awkward situation, these best tennis shoes will inspire confidence as they withstand your fast-paced gameplay.
Midsole
Babolat Men's are the perfect long-lasting shoe for you to take your game to the next level.
The midsoles have been designed in collaboration with Babolat, one of the world's premier tennis gear manufacturers.
They are made from a flexible yet durable material that helps reduce shock when taking shots and provides protection from stones or other debris on the court.
Dressed down in a sleek black colorway, they will help you dodge distracted opponents while dazzling them with a winning natural stroke.
Outsole
These best Babolat Tennis Shoes are the perfect marriage between comfort and quality.
The outsole offers excellent grip while reducing pressure on your feet with innovative 3D technology.
These shoes are made to last, so you will not have to worry about replacement costs or anything else for that matter.
Shop today at our online store- because these shoes will be worth it.

Pros
Durable shoe construction
Made of high-quality materials
Offer excellent traction on all surfaces
Affordable option
Durable synthetic upper
Cons
A bit heavy
Softer material sole
16

. ASICS Gel-Court Speed – Best Tennis Shoes For Clay and Hard Courts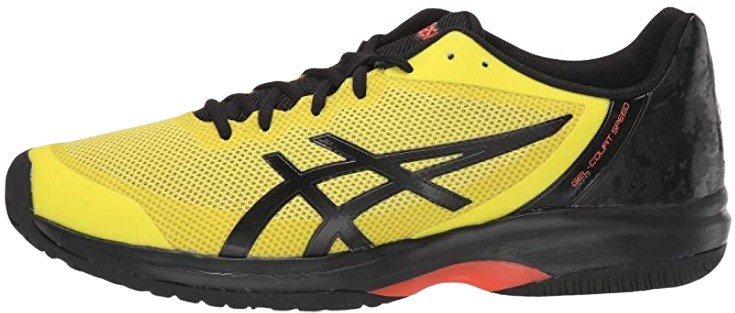 Shoe Specs
Brand: Asics
Model: Gel Court Speed
Weight: 12.3 ounces
Arch: Slightly Low
Amazon Rating: ⭐⭐⭐⭐⭐
Top Features
Seamless upper
PGuard protection
Shock absorbent cushioning
Midfoot balance control
DuoMax for added stability
Tennis shoes that do not fit properly can lead to blisters and other foot problems.
Why Buy It?
These best tennis shoes solve this problem by using seamless construction. These shoes provide comfort, stability, and durability for your game without sacrificing style or fashion sense in the process.
They feature an innovative split sole design that allows you to feel the court while providing excellent cushioning at impact points throughout your game.
Upper sole
For the ambitious man who wants to bring himself to new heights, this shoe is essential for your performance.
It has a sleek design that enhances the sleek feel of the court underfoot, allowing you to glide easily towards each other.
Midsole
These nice tennis shoes are perfect for all sorts of court games.
No matter how quickly the game gets, you will need a shoe that can keep up with your pace so get something crafted to help you every step.
The secret is in the midsole, which enables you to move quickly and powerfully into action while also giving you tireless stability.
You do not have to worry regarding comfort either because these top rated tennis shoes have GEL cushioning built right in.
So even if you are running back and forth for hours on end, make sure to check these out before deciding what other shoes to buy this season.
Outsole
The Gel-Court Speed Men's Tennis Shoes from ASICS will help you get a new level of speed.
These best tennis shoes are designed to maximize court coverage while offering a lightweight yet durable upper with the company's signature GEL Cushioning System in the heel and forefoot.
The outsole of these best tennis shoes for clay and hard courts is made of AHAR rubber. It has a modified herringbone pattern that offers a complete grip on both clay and hard courts.

Pros
High quality, durable soles
Lightweight and comfortable to wear
You will be able to move more quickly
Innovative technologies
Cons
Low at ankle
Little narrow
Final Verdict – Best Tennis Court Shoes
Above, I tried to explain almost all aspects of the best tennis shoes for men should have, no matter which level of tennis game you are playing. I also explained the vital features top tennis shoes brands are offering in their tennis shoes. I hope the above detail is giving benefits to everyone to some extent as everyone's requirement is different for best tennis shoes.
To me, good tennis shoes have durability, stability, and comfort. Since the tennis game requires more energy to play, therefore, you cannot ignore the comfort aspect. Best shoes for playing tennis must deliver custom comfort when required.
Lateral movement is associated with tennis games so, stability is the most critical factor. Last but not the least, you cannot ignore the durability factor as it has a direct impact on your pocket.
Now if your primary focus is comfort, then I recommend Nike tennis shoes. Especially Nike court lite and Nike air zoom are top tennis shoes that have plush cushioning. However, if your primary focus is stability and durability, then Adidas tennis shoes, Courtjam, and Adidas Barricade 2018 series are best selling tennis shoes. Asics Gel resolution can also be the right choice as it has excellent durability and support.
Similarly, if you have a wide foot, then the Babolat tennis shoes SFX3 model is better as it has a roomy toe box. For a narrow foot, Asics tennis shoes and Nike tennis shoes are the best performance shoes. Their narrow toe box snugs your forefoot and offers glove-like fitting. If your weight is heavy, then Prince T22 is a good option.
For foot types like overpronators or supinators, the new balance tennis shoe mc806 is best. They have used unique technology in their forefoot to reduce these problems.
Lastly, the choice is yours, as you know better about your needs. However, there is no perfect shoe that can meet everyone's requirements. You have to compromise in some areas. Here, I can only give you an overall idea of the best tennis shoes requirements. Their general features different brands are offering in their tennis shoes and comparison of their performance with each other. So that it could be easy for you to choose your best men's tennis shoes from the available that matches very close to your needs.
If you want durability, comfort, and stability then I recommend you to buy Asics Gel Resolution 8. It's the best tennis shoes performing in almost all areas. FlexionFit upper along with TPU gives Support and Stability to the forefoot. The Trusstic System at mid-foot protects your foot from twisting during fast moves. Outsole pattern is modified herringbone to provide grip on all court surfaces, especially on hard courts. A 6-month outsole durability guarantee makes it the most durable tennis shoes.
If you want speed with comfort and lightweight then Nike Court Lite 2 is the best choice for you. The dynamic Fit system improves speed by covering your whole foot and offers a glove-like fit. Phylon midsole offers lightweight plush cushioning under the whole foot. Nike Zoom Air unit in shoe heel delivers reactive and flexible cushioning under the rear foot. The outsole tread pattern is modified herringbone to deliver strong grip n all courts especially on hard courts
If your focus is shock-absorbent cushioning with ventilation, then Adidas Gamecourt is perfect. The Upper of these good tennis shoes is made with TPU-reinforced mash that makes it very soft and airy. The midsole uses cloud foam technology, which is lightweight, and shock-absorbent. The outsole pattern of these best rated tennis shoes is full herringbone to offer superb traction on all courts, especially on clay courts.

Best Tennis Shoes | Ultimate Buying Guide
Tennis is a very speedy challenging game and requires very swift back and forth and side-by-side movements. The foot movement is the most integral part of this game. Therefore, it is necessary that the shoes to play tennis can provide your foot maximum support, stability, and comfort.
Searching for the best tennis shoes for your feet is very critical. You cannot play tennis with your regular court sneakers and even with your running shoes. If anyone else is doing so, can put himself in significant danger as it can hurt your foot badly. Also, your foot type has an important role in selecting the best tennis shoes. Some people have narrow forefoot while others have wide forefoot. Therefore if you have a wide forefoot then select tennis shoes for wide feet otherwise you can face foot problems.
Let's see in detail how to select the best tennis shoes for your feet.
Best Shoes To Play Tennis vs Running Shoes
It's much essential to know the difference between the shoes for playing tennis and other footwear like running shoes and sneakers. Most of the time, people play tennis with their running shoes or sneakers, and it's completely unsafe.
Sneakers are regular shoes you have worn usually with your dress. They have not been designed for specific surfaces or movements.
Running shoes are specifically designed to maintain your forward movement. They usually are designed to be lighter in weight than tennis shoes. They are flexible and slim shoes. Their upper is softer than tennis shoes, and the heel is a bit higher. They have less stability and control. Their outsole traction is less than tennis shoes. It's better not to use your best tennis shoes for running because tennis shoes are a bit heavier than running shoes and also not supportive of running.
The tennis shoes are specifically designed to maintain lateral movement. More lateral support gives less chance of rolling your ankle. Their upper is stiffer than running shoes, and they are specially designed to provide more stability and control. They are a bit heavier than running shoes and often provide low to court feel. Their outsole has more reliable traction than running shoes. So to avoid injury, always wear tennis shoes to play tennis.
After knowing the importance of tennis shoes, please get the answers to the below points from you before buying the best tennis shoes for the tennis game.
Your foot Position For Tennis Shoes
Tennis Shoes As Per Tennis Court Surface
Your Tennis Game Approach in Court
Let's see in detail how these points have related to men's tennis shoes.
Foot Position For Best Type of Shoe For Tennis
There are 3 types of foot positions which is normal pronation, under pronation, and overpronation.
You can check your foot position with a simple wet test. You need to wet your foot bottom and check its impression on any clean surface. Knowing your foot position can help you in choosing the best tennis shoes for your foot.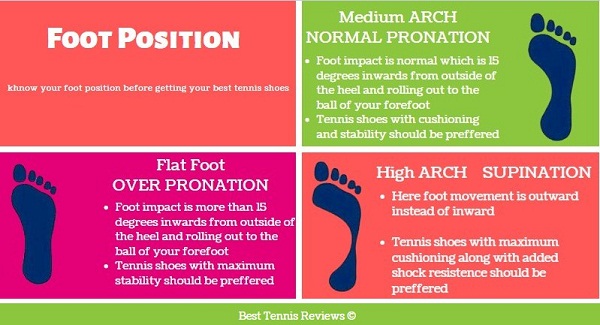 Tennis Shoes For Normal Pronation
In normal pronation, your foot impact is 15 degrees inwards from outside of the heel and rolling out to the ball of your forefoot. That could evenly distribute the body pressure on your foot.
If you are a normal pronator, then go for tennis shoes for pronation. Their prime focus is to deliver cushioning and stability to your feet to enhance comfort and control.
Tennis Shoes For Over-Pronation
Here, your foot impact is more than 15 degrees inwards from outside of the heel and rolling out to the ball of your forefoot. Overpronation is also called a flat foot. Here your foot and ankle have to face problems in stabilizing your body and absorbing shock efficiently.
For overpronation or flat feet, your primary focus is on best tennis shoes for flat feet to provide maximum stability and control during lateral movement.
Tennis Shoes For Under Pronation / Supination
Here, your foot movement is outward instead of inward. The foot starts making an impact outside of the heel and continues rolling to the outside of the foot. That is also called supination, and they have a high arch. Here body pressure is forced onto a concentrated area of the foot when pushes off. So mostly pressure is on small toes.
If you are a supinator or under pronator, then your primary objective is to deliver maximum cushioning under your foot along with added shock-resistance under the heel. These cushioned tennis shoes allow your feet to roll inwards and absorb shocks.
Tennis Shoes As Per Court Surface
Outsole behaves differently in different courts. Like you cannot wear grass court tennis shoes on hard court. Otherwise, you cannot control your body stability, and your foot can be injured. So the court surface plays an essential role in selecting these best court shoes for tennis. There are three types of court like hard court, clay court, and grass court. If you know your local court surface, then it can be easy for you to select your best tennis shoes.
Let's take a look at different court surfaces and their relation with the tennis shoes so it may help you to find the best court shoes for your tennis game.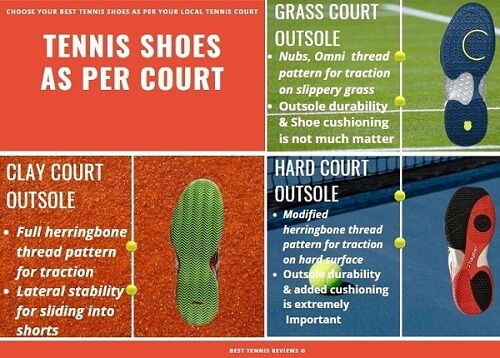 Indoors/Outdoors
Buying the best tennis shoes is a commitment, so you want to be sure that they will not only last but also look good.
The first thing most people think about when buying new footwear for their game of choice is whether it should go inside or outside.
Because each surface has its advantages and disadvantages depending on what kind of player one wants help becoming.
Tennis Shoes for Hard Court
Hardcourt includes cement or concrete surfaces. Since they are hard therefore they can damage your shoe outsole more quickly. So on hard court, tennis shoes should have abrasion resistance to enhance durability. Some brands are also offering a 6-month outsole durability guarantee. The non-marking rubber outsole is also best for hard courts. Otherwise, it may leave marks on the court.
These tennis shoes have modified herringbone pattern with shank between the two outsoles is much better to provide secure traction on hard court.
On the hardcourt, you need extra comfort and support. Therefore, for hard court, you need shock-resistant cushioning, so it can be best to keep your foot protected and relaxed during the whole day.
Tennis Shoes for Clay Court
Clay courts are usually softer than hard courts. French Open is always played on clay courts which distinguishes it from other Grand Slam tournaments. On clay courts, you need more grip than hard courts.
These tennis shoes have a full herringbone outsole tread pattern for better traction. Full herringbone pattern on outsole would not jam with clay, therefore, grip you up during sliding.
Clay courts are usually made up of synthetic uppers for comfort and lightweight to give you speed and enhance your lateral movement. The upper should be tight and better if having a long tongue to prevent clay particles from entering into the shoe.
Tennis Shoes For Grass Court
Grass court is also soft, just like clay courts. These are usually slippery surfaces, so you need more grip, but durability and comfort are not much required since the surface is naturally soft because of grass.
These tennis shoes are designed with synthetic and mesh upper for flexibility and breathability. The material is molded with your foot and gives you the perfect fitting to enhance stability.
The outsole of grass-court tennis shoes has pin-put or nubs typically to provide traction on grass and flat sole to prevent damage to the grass. The sole has less cushioning because of the natural cushioning of the grass.
Tennis Shoes As Per Tennis Game Approach
Your playing style is also having a relationship with your tennis shoes. Usually, there are two types of tennis playing approaches. Some people are Baseline players, while others have serve and volley styles.
Baseline – baseline players, mostly stick with the backline parallel to the net and their frequent movement is side by side. These players require tennis shoes with more lateral support and more durability.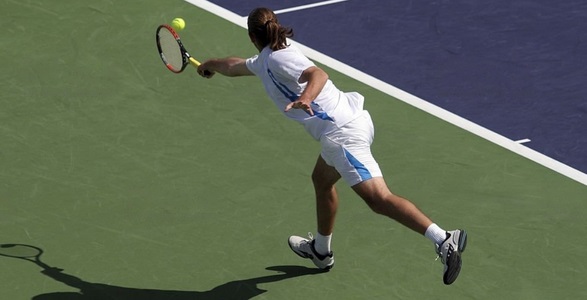 Serve and Volley – These players like to serve and frequently chase the net. Since they have to slide their back foot during serving, therefore they need a shoe with a durable toecap. It's also very significant if their tennis shoe arch has medial support.
Now you are well aware of your foot, your playing style, your court surface. The next step is to look at some important aspects of tennis shoe parts before taking the final decision.

Tennis Shoe Weight
Tennis shoes are an essential piece of equipment for tennis players, and their weight is a crucial factor to consider. The average weight of men's tennis shoes is around 12 to 14 ounces per shoe, with variations depending on the brand, materials used, and design.
The weight of tennis shoes plays a vital role in determining a player's performance on the court. Lightweight shoes are preferred by players who prioritize speed, agility, and quick movements, while heavier shoes are preferred by players who require greater stability and support for their feet and ankles.
However, the choice of shoes should not only be based on weight alone. Other factors such as the shoe's fit, cushioning, durability, and overall quality should also be considered. A well-fitting, high-quality tennis shoe that balances weight, support, and comfort can significantly enhance a player's performance and prevent injury on the court.
Factors to Consider Before Choosing Best Tennis Shoes for your Feet
When to buy the best shoes for tennis, your focus should be on the below points.
Upper
Vamp
Shoe Collar
Shoe Tongue
Midsole
Outsole
The upper part should be a bit stiffer and sturdy for durability and stability. Most of the time it's made with reinforced synthetic leather with Mesh fabric. The reinforced synthetic leather is used in main areas where abrasion chances are much more to enhance durability. The mesh fabric delivers flexibility and breathability and is used at fewer abrasion areas that don't contact the ground and prevent your foot from heat produced during your game. It is also molded with your foot during fast movement to provide a soft and comfortable feel.
The vamp is the part that bends when you stand on your toes. It's above the toe box and under shoelaces. Vamp gives support to your foot and keeps your foot secure within the shoe. Here mostly Mesh fabric is used to provide you flexibility and ventilation.
The shoe Collar is at the back of the upper part above the heel counter. That is the opening of the shoe from where you insert your foot. It wraps the foot around the heel and provides support to the Achilles tendon. Most brands offer a padded shoe collar for extra comfort and support.
Shoe Tongue is a stripe at the top center part of the shoe under laces. It's made with synthetic or leather material and may have padding in it. It protects the foot from being tired by the laces. It not only gives support to the foot but also protects your foot from entering any external particle into your tennis shoes. Like on a clay court, there is much chance of entering stone particles into your shoe. Also, in extreme weather, it prevents snow or rain from getting inside the shoe.
The midsole is a very critical part of tennis shoes in terms of cushioning. It should provide lavish and long-lasting cushioning under your foot for the whole day. The midsole is of two types EVA and PU. EVA provides lightweight comfort but has less firmness and resilience while PU has more stability and resilience, but it's a bit more substantial as compared to EVA.
Brands offer different technologies under rearfoot and forefoot to provide extra support, comfort, and flexibility. Therefore, you can enhance side-by-side movement, speed, and decrease your fatigue. Some brands used a heel counter in the heel section, which is a plastic device used in the heel cup to provide extra support. It provides reasonable control for different foot types like over-pronation and supination.
The outsole provides you traction and grip on the court. Since tennis is a very energized game, and you have to make lateral moves. Therefore, tennis shoes provide you best traction on the court to enhance your stability so that you can quickly move from one direction to another in a fraction of a second. The outsole has maximum contact with the ground and has lots of chances of wear and tear. So focus on this area and make sure that your shoe outsole has made with highly durable rubber.
Durability Consider the durability of your new tennis shoes before buying them. You want a shoe that will last and protect you, but it is uncomfortable or too heavy if it gets old.
Durability checked in terms of toe and outsole. Shoe toe can be abrasion during Serve and Volley so prefer tennis shoes that has toe durability. Similarly, more outsole durability has required on all courts specially on hard courts. so always consider durable tennis shoes.
Factors To Be Consider
A Bit Heavy Tennis Shoes
Lightweight Tennis Shoes
More lightweight Tennis Shoes
Men's
Women's
Men's
Women's
Men's
Women's
Weight
> 400g
> 350g
350g-400g
300g-350g
< 350g
< 300g
Cushioning
xxx
xx
xx
Speed
x
xx
xxx
Durability
xxx
xx
xx
Stability
xxx
xx
x
Best Tennis Shoes For Fat Guys
For fat people, tennis shoe selection is a bit different. Since they have more weight, therefore their weight can put extra pressure on the shoe, and shoe durability can be affected.
So the best tennis shoes for fat guys should have more durability than lightweight tennis shoes. Also, for heavy players, we recommend shoes that can provide plush cushioning under their forefoot to provide extra comfort.
Tennis Shoes For Foot Problem
If you have any foot problems like foot pain, leg pain like plantar fasciitis, or bunions at the toes then choose plantar fasciitis or bunions tennis shoes, as they are specifically designed for these problems. Otherwise, consult with your doctor for better treatment.
Best Tennis Shoes Fitting
Shoe fitting is also very crucial when selecting nice tennis shoes for men or women. Perfect fitting offers a comfortable fit. However, if your shoe size is small then your fitting may cause foot pains and problems like a bunion. If your shoe size is large, then it may cause blistering and stability issues. Your foot size may change because of the change in your foot shape over time. So don't assume that your foot size can remain the same always.
How To Measure Foot Size Of Best Tennis Shoes
In a straightforward and simple way, you can measure your foot size. Just place your foot on white paper and sketch your foot with the led pencil. Make sure to wear socks before making your foot sketch. Sketch your both foot and check fitting for your large foot.
Since your feet are the largest at the end of the day, so start sketching at the end of the day. If you are sketching your foot by yourself, then draw it in seating position. If a 2nd person is sketching your foot, then draw it in standing Position for better result.
While drawing the sketch, make sure that your pencil position should be straight up and down as possible and remains in continuous interaction with your foot.
After sketching your both foot measure its length by taking the distance between the two widest points. After measuring, you get a number which is your foot length. Now subtract 5mm from that number, and the result is your foot length.
For shoe width, measure the width by taking the distance between two widest points. After getting the result, again subtract 5mm from the result, and that number is the width of your foot.
This subtraction is to adjust the space between your line made by the pencil and the foot. Since the shoemakers use different ways to make their tennis shoes so their sizing can vary accordingly.
Please remember that this method gives you a number of your foot length and width. After getting your foot length and width number, you have to check it on the size chart that which shoe size fits you based on your foot length and width.
Men's Shoes Size Chart
| Length (Inches) / (CM) | US Size | UK Size | EU Size |
| --- | --- | --- | --- |
| 9.33 / 23.7 | 6 | 5.5 | 39 |
| 9.50 / 24.1 | 6.5 | 6 | 39 |
| 9.66 / 24.6 | 7 | 6.5 | 40 |
| 9.80 / 25.0 | 7.5 | 7 | 40-41 |
| 10.0 / 25.4 | 8 | 7.5 | 41 |
| 10.16 / 25.8 | 8.5 | 8 | 41-42 |
| 10.33 / 26.2 | 9 | 8.5 | 42 |
| 10.50 / 26.7 | 9.5 | 9 | 42-43 |
| 10.66 / 27.1 | 10 | 9.5 | 43-44 |
| 10.83 / 27.5 | 10.5 | 10 | 43-44 1/2 |
| 11.0 / 27.9 | 11 | 10.5 | 44-45 |
| 11.16 / 28.4 | 11.5 | 11 | 44-45 |
| 11.33 / 28.8 | 12 | 11.5 | 45-46 |
| 11.5 / 29.2 | 12.5 | 12 | 45-46 |
| 11.66 / 29.6 | 13 | 12.5 | 46-47 |
Women's Shoes Size Chart
| Length (Inches) / (CM) | US Size | UK Size | EU Size |
| --- | --- | --- | --- |
| 8.50 / 21.6 | 5 | 3 | 35-36 |
| 8.66 / 22.0 | 5.5 | 3.5 | 36 |
| 8.83 / 22.4 | 6 | 4 | 36-37 |
| 9.0 / 22.9 | 6.5 | 4.5 | 37 |
| 9.06 / 23.3 | 7 | 5 | 37-38 |
| 9.33 / 23.7 | 7.5 | 5.5 | 38 |
| 9.50 / 24.1 | 8 | 6 | 38-39 |
| 9.66 / 24.6 | 8.5 | 6.5 | 39 |
| 9.31 / 25.0 | 9 | 7 | 39-40 |
| 10.0 / 25.4 | 9.5 | 7.5 | 40 |
| 10.16 / 25.8 | 10 | 8 | 40-41 |
| 10.33 / 26.2 | 10.5 | 8.5 | 41 |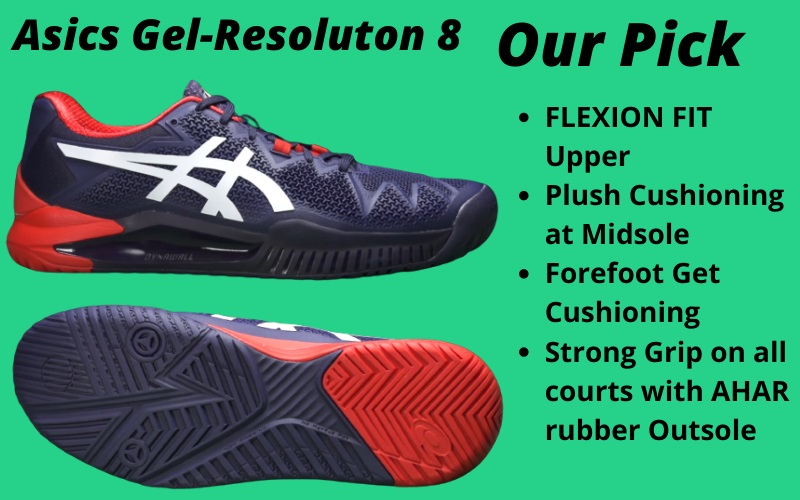 Best Tennis Shoes FAQ | Frequently Ask Questions
Q: What are the best shoes for tennis?
Ans: Below is the 16 best shoes for tennis for 2023.
ASICS Gel-Resolution 8
Nike Court Lite 2
Adidas Gamecourt
New Balance mc696V4
Adidas barricade 12
Wilson KAOS Swift
Asics Gel Challenger 12
Adidas Adizero Ubersonic 4
ASICS Gel-Game 8
Prince T22
Wilson Rush Pro 2.5
Adidas Defiant Generation
Nike Air Max Vapor Wing
Adidas Courtjam Bounce
Babolat SFX3
ASICS Gel-Court Speed
Q: What are the best tennis shoes for running?
Ans: Hard court shoes are mostly recommended for running as they are more shock absorbent with good midsole and cushioning. But, we still suggest to use the running shoes for running instead of tennis shoes as they are designed for tennis courts.
Q: What is the difference between tennis shoes and sneakers?
Ans: The main difference between Tennis shoes and sneakers is lateral support and shock-absorbent cushioning. Tennis Shoes are specially designed with specific techniques whereas sneakers are normal casual footwear with not many specific features. Tennis shoes provide more lateral movement as to be used in the court but Sneakers do not provide any lateral movement. Tennis shoes are more shock absorbent while the sneakers are not shock absorbent.
Q: What is special about tennis shoes? 
Ans: The quality of the tennis shoes is a special feature to look for, the synthetic used in the shoes shall be of good quality and anti-bacterial.  Mesh used in the upper part of the shoe along with the midsole quality is important. The good cushioning at the collar of the shoe that is anti-allergic and reduce the risk of the ankle twist.  The safety at the toe cap is necessary along with above mentioned features that makes shoe a special one.
Q: Should tennis shoes fit snug?
Ans: Tennis Shoes should be comfortable and good fit. They should fit and secure enough that your feet inside the shoes shall not slip and be sweaty. Necessarily the heel should not be too tight that may hurt but enough to provide you a good and strong grip.
Q: What should I look for when buying tennis shoes?
Ans: When buying tennis shoes, It is often recommended to select the right shoe for yourself. You must know your foot type i.e. if you have a Flat foot, High Arch Foot, or with least Arch along with the pronation type. Right and perfect fit is the key, it is very necessary for your foot to feel comfortable with good grip inside the shoe. So go for tennis shoes with good quality midsole and outsole. Plus, be keen to get lightweight shoes with good cushioning. Last but not least choose tennis shoes that provide good durability and stability.
Q: How Should Tennis Shoes fit?
Ans: For forefoot, the difference should be 0.375 to 0.5 inches between your big and shoe end. For rearfoot, the heel should be adequately fit better if a bit tight. The heel should not slip during running or walking.
Q: How long do Tennis Shoes last?
Ans: There is no fixed period. It depends upon your usage. How frequently you wear them, and aggressively you play with your tennis shoes. But generally, it should last for at least 3 to 6 months.
Q: Do tennis shoes make a difference?
Ans: Yes, Tennis is a game associated with lateral movement and serve and volley, so tennis shoes are specifically designed to give you control for these movements. If you play tennis with tennis shoes, then not only your performance will be improved, but also you could remain safe. Otherwise, in any other shoes, it could be hazardous for your feet.
Q: How to clean tennis shoes at home?
Ans: A very simple technique to clean your tennis shoes at home is by toothpaste. Just apply toothpaste on your tennis shoes upper and side surface and rub it with soft fabric and then clean it. They will shine.
For laces, pull them out from shoes and place in a bowl having water. Again put some toothpaste on it and rub with hands. That's it. Your tennis shoes are clean now.