Tennis is an amazing game that has been watched around the globe. In fact, it's the 5th most popular sport with over one billion followers worldwide. Since tennis is a trendy game, tennis players are always in the limelight, and people are always curious about their ranking, house, cars, girlfriends, and lifestyle of the tennis players.
Thus, we have compiled this complete article in which we will show you a complete list of the best tennis players of 2023 with all the information you need. Here we have shared the list of both male tennis players and female tennis players. Here we did not discuss their tennis gear, especially tennis shoes. If you need tennis shoe detail then please visit tennis shoes for men and tennis shoes for women for the complete buying guide.
That being said, let's jump into the matter and check out the list.
1. Men's Tennis Players by ATP in 2023
Here is the list of the best singles tennis players in 2023, released by the Association of Tennis Professionals (ATP).
Novak Djokovic
Roger Federer
Andy Murray
Rafael Nadal
Dominic Thiem
1. Novak Djokovic – Top Tennis Player
Novak Djokovic is right now the top tennis player globally ranked by the Association of Tennis Professionals (ATP).
Novak Djokovic has held the professional title of the number 1 tennis player for a consecutive 327-weeks, which is absolutely amazing.
This professional Serbian tennis player has played tennis since the age of 4 and has several titles to his name, including 20 Grand Slam men's titles and a combined 84 ATP singles titles.
Another remarkable achievement of Djokovic is that he is the only player in the Open Era that has received the double career grand award.
Actually, he was the one who broke the streak of Federer & Nadal to become the Grand Slam singles champion in 2008.
With a net worth of over 90 million USD, Djokovic has a lavish lifestyle and owns several high-end vehicles, designer houses, and other luxuries.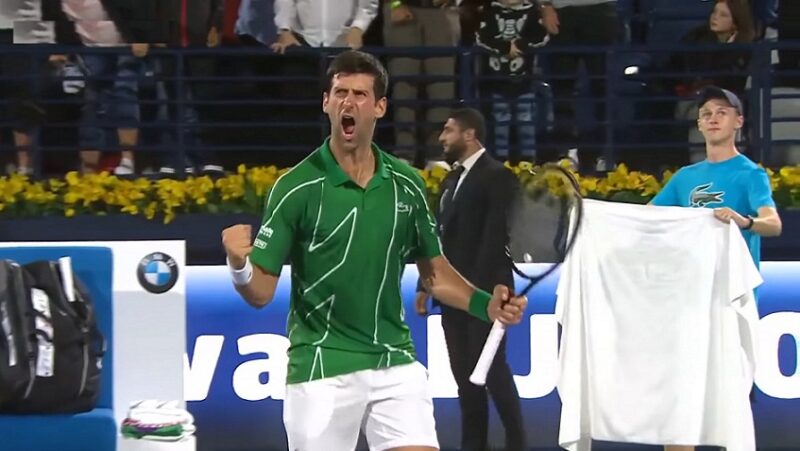 ""
Early Life
Djokovic was born on dated 22 May 1987 in Belgrade, Serbia. The youngest of all the three siblings, Novak had a deep passion for tennis.
At the early age of three, he started playing tennis on a tennis court opposite his parent's restaurant in Belgrade. This is where his remarkable career started.
Although he was born in a warzone, still he was very passionate about tennis, which led him to excel at it.
At six, his parents sent him to a tennis camp organized by "Jelena Genčić." Jelena Genčić quickly recognized the young Djokovic's talent and named him the biggest talent she had seen after Monica Seles.
Novak Djokovic worked with Jelena Genčić for six consecutive years. After working for six years continuously with Djokovic, Genčić realized that it was time to move on. She made him shift to Germany, where he practiced for two years before joining the professional leagues.
From here, he started his historic career by winning several international matches, awards, and ATP events.
Novak Djokovic met Jelena Ristić (his wife) in his high school in 2005. They have dated each other for almost eight years (from 2005 to 2013), and then they mary in 2014 after dating each other for 9 years.
Playing Style
Djokovic is a very successful tennis player. Many people are curious about the playing of Novak, as he has a very aggressive game nature and a solid playing technique.
Novak Djokovic is a right-handed player with a very powerful backhand grip and one of the most aggressive returners of the serve.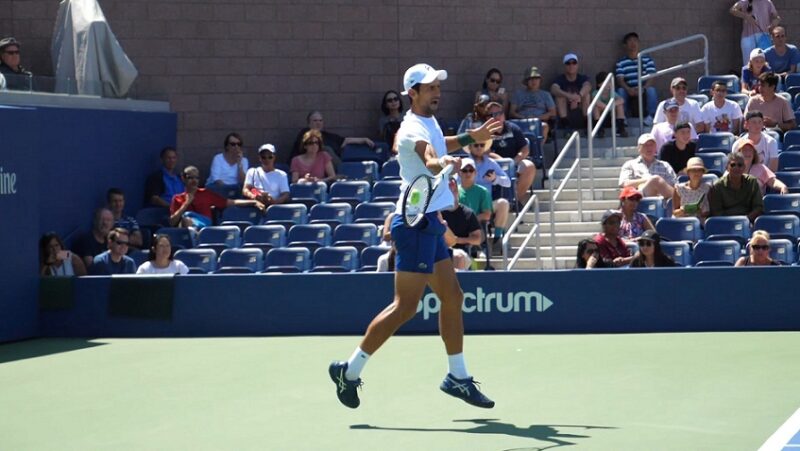 ""
Djokovic's core weapon is his strong backhand grip, making him one of the best tennis players of modern tennis. He has a very dominant double backhand grip that has made him a super-successful tennis star.
Although Djokovic's forehand is not as successful as his backhand, still he has done great with his forehand in recent times. He uses a ¾ western grip that is very close in similarity with the semi-western grip.
Novak struggled with his serving style throughout his career until 2018, when he went through surgery to boost his serving style.
Novak loves to play on "hard courts." Thus he has won most of his career matches on the hard courts. In fact, he is often regarded as the king of the hard courts due to his unrivaled dominance in the hardcourt.
Novak and Asics have collaboration and developed a specified tennis shoe Asics court FF Novak. Novak wore these tennis shoes while playing tennis.
Professional Achievements
Novak Djokovic has a very remarkable career that is full of accomplishments. From the start of his career till now, he has won 20 grand slams to his name, which makes him one of the best tennis players of all time.
Djokovic started his professional career when only two tennis players, Federer and Nadal, dominated the tennis world.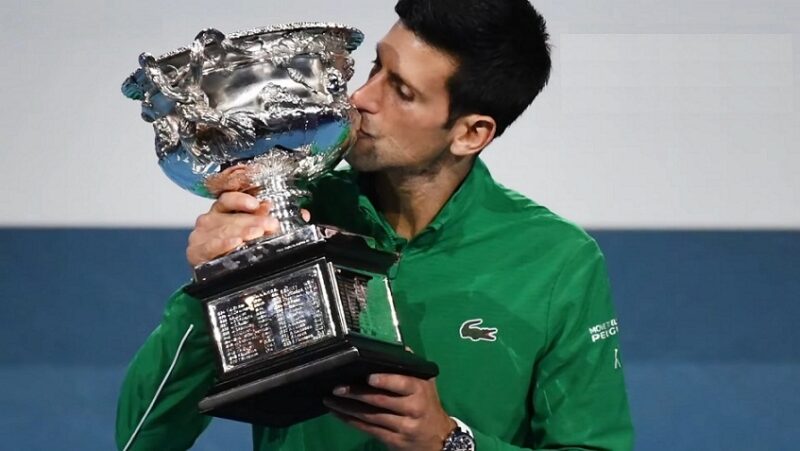 ""
He turned professional by entering himself in the ATP tour in 2003. Initially, he restricted himself by playing only Futures & Challenger tournaments. Until 2005, when he played his first Grand Slam at the Australian Open.
Djokovic broke the streak of the all-time great duo (Federer & Nadal) by winning his first Grand Slam at the 2008 Australian Open.
In 2011, he won three major events out of the four, raising his rank to number one.
During the year 2015, he reached fifteen back-to-back finals. In 2016, he won the career Grand Slam.
In 2023, he won the French Open, which made him achieve the Grand Slam for the second time. Not only this, he continues rising and also became the first-ever player to achieve the career Grand Slam twice.
Relationships
Novak Djokovic & his wife Jelena Ristić met in high school for the very first time in 2005. They dated each other from 2005 to 2013, when they got engaged.
On 24 April 2014, they revealed to the world that they were expecting their first baby Stefan. Finally, they got married on 2 July 2014 at a church wedding.
They also have a daughter, Tara, which was born on 2 September 2017. Novak Djokovic is a committed man and does not have a girlfriend.
Net Worth, Cars & Houses
Considering his net worth at well over 90 million USD, he has not splashed enough money on cars. Still, he owns several high-end vehicles.
Some of the hot wheels that Djokovic owns are TESLA Model X, Peugeot e-208 x, Peugeot RCZ, Mercedes Benz 500S, Bentley Continental GT, Audi R8, and Aston Martin DB9.
Apart from the cars, he owns multiple million-dollar properties across the globe. Djokovic has his home base in Monte Carlo, which he bought for 5.1 million USD in 2014.
Djokovic owns shares in a sports event organizer company called Family Sport. He also owns a food line company named "Djokolife."
Apart from that, he also has a charity organization that he runs with his wife, Novak Djokovic Foundation. The major target of this organization is to improve the early education of children.
2. Roger Federer – Tennis Player Dominant on Grass Court
At number 2, it's no other than Roger Federer. Roger Federer, Novak Djokovic & Rafael Nadal are considered trio that has dominated the tennis scene for the past 15-years.
In fact, Federer, Djokovic, and Nadal are the only players in the whole world who have 20 grand slam titles to their name.
Apart from that, Federer also won several other ATP titles, including the ATP number one ranking, 103 ATP singles titles, to name a few.
Starting from the Wimbledon Junior Championship to now, he has a stunning career full of achievements.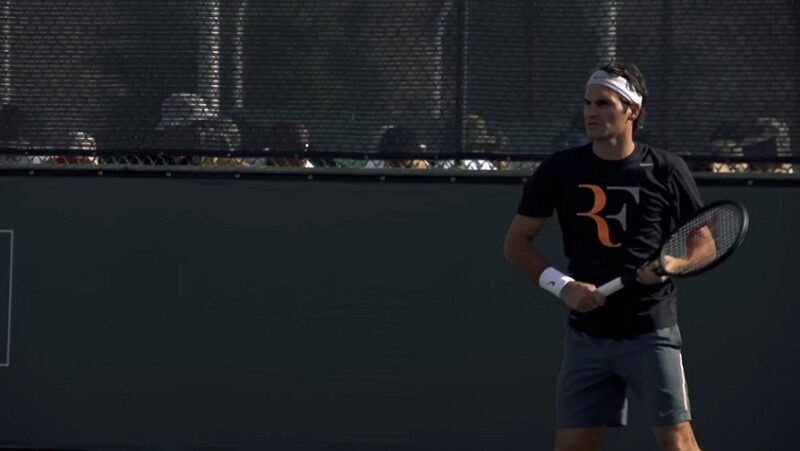 ""
Early Life
Federer was born on dated 8th August 1981 in Basel, Switzerland. He was born to a Swiss father, and an African mother, with only one sibling, an elder sister.
Since his hometown was very near to German & French borders, so he became fluent in both these languages.
Federer's whole family was interested in playing tennis, but he took this sport very seriously from an early age. He started playing tennis from the early age of eight, and after three years, when he was just eleven years, he was one of the three best players in Switzerland.
Initially, he was involved in different sports, including badminton, basketball, and football, and then he plunged into tennis completely to pursue it as a career.
At 14, he won the Switzer Junior Championship title, which gained him popularity in Switzerland.
Playing Style
Federer is very offensive and creates opportunities for himself by taking risks, which made him ultra-successful as he is today.
Federer has a very strong forehand, which is the core weapon that he uses to smash the players out of the court.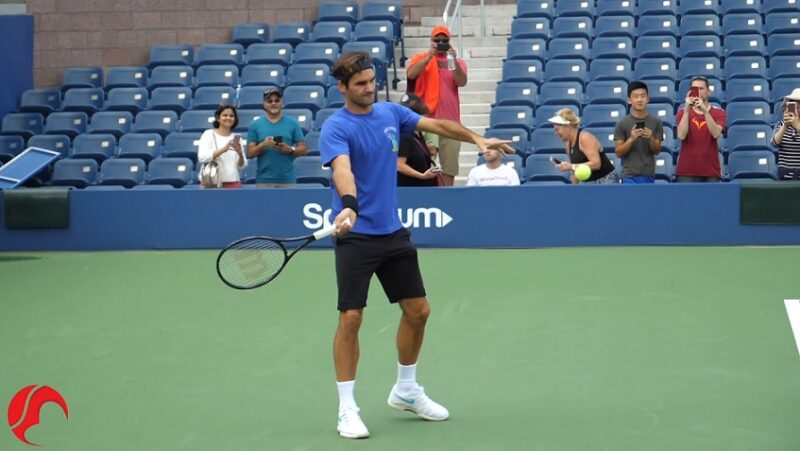 ""
Unfortunately, he does have a weak backhand that his opponents target. Still, his aggressive nature and strong sense make him dominate the field, even against the best of the best players.
Roger Federer is the star of the grass and has dominated the grass courts for years. He holds 19 grass-court titles, which make him the most successful grass player statically.
Professional Achievements
Roger Federer is no doubt one of the best tennis players in the modern game with 20 grand slams. Federer started his professional career in 1999 by entering the top 100 rankings for the first time.
His first breakthrough was the 1999 Marseille Open when he defeated the former champion of the 1999 French Open.
Also, he won the 2001 Hopman Cup, from the Switzerland side, along with his partner Martina Hingis.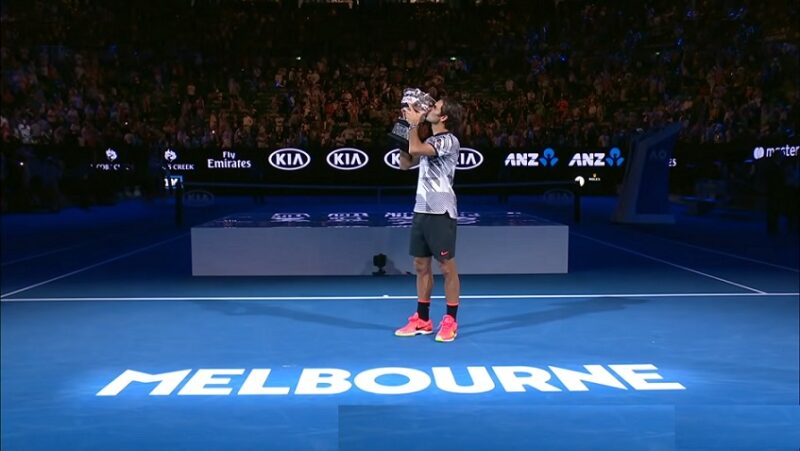 ""
The first major single championship that Federer won was the Milan Indoor Tournament by defeating Julien Butter.
At the 2001 French Open, Federer reached the quarter-finals for the very first time, which raised his ranking to the top 15 for the first time in history.
In 2003, Federer won the Grand Slam event for the first time in his career by defeating Mark Philippoussis, which made him take the number one ranking from the former no.1 player Andre Agassi.
During the year 2004, Federer won the 3 Grand Slam titles. Actually, he was the first person to do so from 1988. 2006 was the best year in Roger Federer's career, as he won over 12 singles titles in this calendar year.
In 2007, Federer reached the four Grand Slam singles finals, winning three out of the four.
From winning from the first Grand Slam in 2003 to date, Federer has won 20 Grand Slams and numerous other ATP titles, making him one of the most successful players with the highest number of Grand Slams.
Another distinguished achievement that Roger Federer has to his name is that he is one of the eight men on the planet that has won a career in the Grand Slam (by winning all the Grand Slams at once).
Relationships
Roger Federer got married to former Women Tennis Association player Miroslava Federer on 11 April 2009. They both met each other during the 2000 Sydney Olympics and finally married after dating each other for nine years.
Roger & Miroslava had identical twin daughters in 2009, and then Federers had identical twin boys in 2014.
Networth, Cars, & Houses
Roger Federer is the richest tennis player globally with a net worth of over 500m USD. A huge chunk of this money comes from brand endorsements. In fact, the Japanese apparel brand, Uniqlo, tied Federer in a 10 years contract for 300m USD.
Usually, tennis players are not so fond of motorcars, but Federer proves it otherwise. At 500m USD, he has a bunch of money to splash on.
The majority of his car collection includes sponsored Mercedes Benz cars including, the SLS roadster, G-Wagon G63, CLS 450, AMG GLE 63S, SL AMG, AMG GTS.
Apart from the dominance of Mercedes, he also has a Range Rover SVR, probably only for the sake of diversification.
3. Andy Murray – Smart Tennis Player
Andy Murray, fully named as sir Andrew Barron Murray, is Scotland born Professional tennis player. After becoming the youngest British player to contest in Davis Cup, Murray made his professional debut in 2005.
Early Life
Murray was born in Glasgow, Scotland, on dated 15 May 1987, to Judy and William Murray. He has started playing tennis at the age of 3, coached by his father and brother at an early age.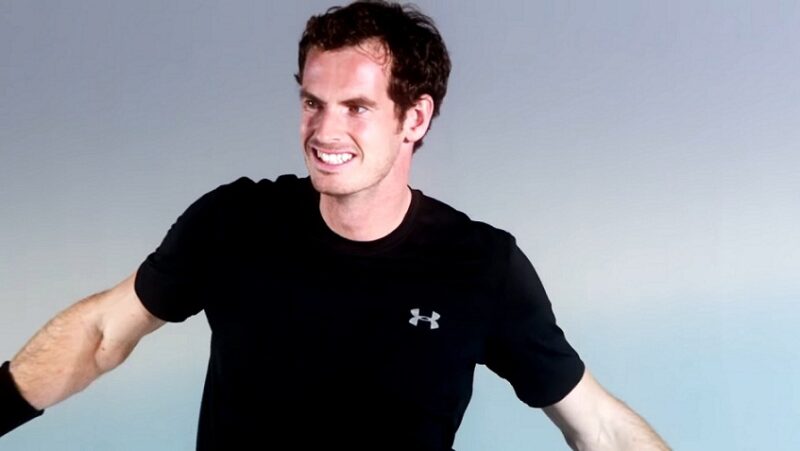 ""
Playing Style
Andy Murray is a very smart player. He is an all-court player and has one of the best two-handed backhands in the game at the moment.
He has a strong serve and excels at returning serve. He is considered a defensive-minded player.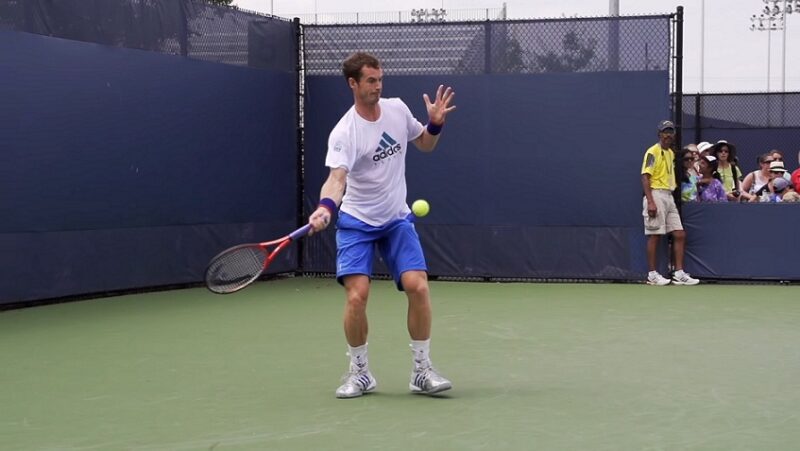 ""
The mental aspect of Murray's game is considered his weak point, But Murray is regarded as a good tactical player because of the way he adjusts the game's pace. The biggest strength of Murray is his anticipation and balance.
Professional Achievements
Murray emerged in the spotlight when he defeated Rafael Nadal to reach the final of the 2008 U.S. open before, eventually losing to Federer. He ascended to the No.2 spot in 2009. In 2012, Murray played the first Wimbledon final and became the first British pro tennis player to reach the Wimbledon final in 1938.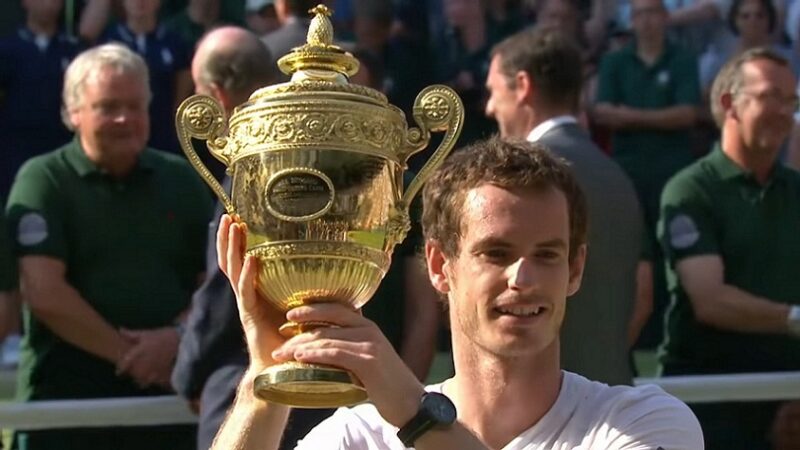 ""
However, Murray lost to Roger Federer in the final. Murray won his first Olympics Gold medal in 2012 during the London Olympics. In 2013 Murray won his first Wimbledon title by beating Novak Djokovic. During his career,
Murray has achieved three Grand slam titles, including two of them at Wimbledon and one at the U.S open. Murray has been listed as World's No.1 by ATP for 41 weeks and finished as the end year no.1 in 2016. Murray has also won 46 ATP singles titles.
Murray had made an officer of the order of the British Empire in 2013, and on the 2017 New year's Honours list, he has awarded a knighthood.
Relationships
In April 2015, Murray married his longtime girlfriend, Kim Sears, at Dunblane in his hometown. The Couple lives in Oxshott, Surrey, with their children. Murray announced the birth of his fourth child on 12 March 2021.
Networth, Cars & Houses
Murray has a whopping net worth of $165 million, out of which $61 million was earned in prize money. The remaining money comes from endorsement, sponsorship, appearances fee, and bonuses.
Fred Perry, Adidas, and Under Armour were a few of his sponsors during his career. Additionally, Murray endorses brands, Castore and Jaguar. Andy bought a luxury hotel, Cromlix Hotel, in 2013.
Murray resides in a £5 million Surrey mansion, which covers an area of 28-acre. Murray has a deep passion for cars, and his first car was Volkswagen Polo.
He also owns Red Ferrari F430, Aston Martin DB9, and currently, he drives Jag XKR after a sponsorship deal with the Jaguar Company. Murray also wrote a book named 'Seventy-Seven; My road to Wimbledon.'
4. Rafael Nadal – Best Tennis Player on Clay Court
Rafael 'Rafa Nadal is a Spanish professional tennis player. He is among the greatest players to ever grace this beautiful game.
He is also recognized as the king of clay. He has ruled and dominated the clay court every year. And, he was unbeatable in clay at his prime. His rivalry with another great of the game, Roger Federer, is considered one of modern sports' best rivalries.
Rafa and Federer have dominated the sport for more than a decade. Nadal has also had some fierce battles with another great Novak Djokovic.
These three make the big 3 of the sport and have won 60 of the 72 grand slams from 2003. Nadal has been ranked no 1 in ATP tennis for 209 weeks and has finished the year as no 1 five times.

""
Early Life
Nadal was born on 3 June 1986 at Manacor in Balearic Islands, Spain. He was born in a well-settled family.
His father, Sebastian Nadal, was a businessman and his mother Maria area was a teacher, although she sold perfumes at the time of his birth.
Nadal had a family who had a sporting background. His uncle Miguel Angel Nadal was a professional association player and also competed in the 2002 World cup.
Nadal started playing tennis at a very early age. He began playing tennis when he was four, with the guidance and coaching of his uncle Toni Nadal who remained his coach on the professional tour. Nadal spent most of his childhood part with his uncle rather than in the company of his father.
And his uncle Toni Nadal made sure to give him one helluva good time engaging him in pastime activities and often took him fishing.
Although Nadal wrote with his right hand, he was a left-hander when playing tennis and had a two-handed forehand and backhand.
Later in his career, he switched his style to one-handed forehand, which became his signature shot, making him one of the best.
Nadal, in his childhood, was also fond of football. While he was busy playing football and tennis, his grades in school were gradually falling.
His father asked him to choose one sport and make a career out of it. Life is all about making the right choice at the right time. Nadal skipped football and chose tennis. Fast forward to the date, and he has everything to be happy about his choice.
Playing Style
Nadal is an aggressive left-handed player. He loves to play around the court and has a variety of shot selections. The full western grip forehand uses is one of the heaviest spin-forehand. This aggressive forehand gameplay has put him in the lead of the grand slams.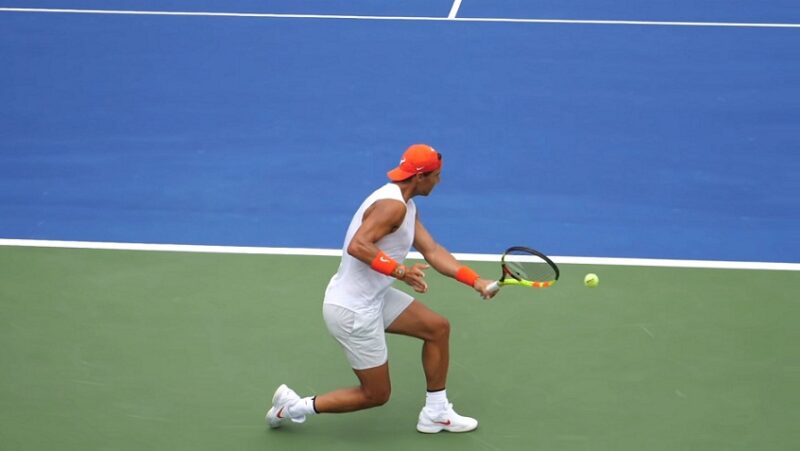 ""
Backhand shots have been always a weak point for Rafael Nadal, but not anymore. He has improved his backhand as well.
Nadal had very bad service in the beginning, but now he also has improved the service with the help of coaches. So, it's not a weak spot for him anymore.
He is called the King of the Clay for his enormous winning ratio on the clay.
Professional Achievements
Nadal officially turned pro in 2001 when he was 15 and participated in two events on the ITF junior circuit. In April 2002, Nadal won his first ATP match.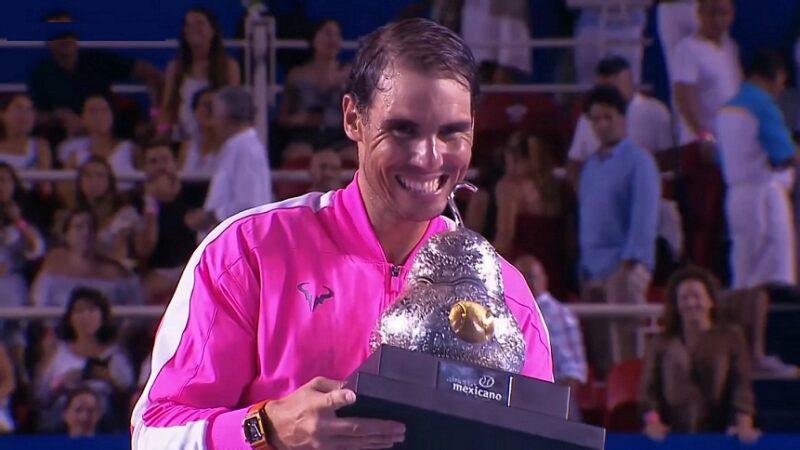 ""
While doing this, Nadal became only the ninth player to do so before the age of 16 in the open era. Making his Wimbledon debut in 2003, Nadal became the youngest man to reach the third round since Boris Becker in 1984.
Nadal won his first ATP title (single or double) in 2003 at clay court, where he partnered with Alex Lopez Moron and won in straight sets.
Nadal reached the third round in the 2004 Australian Open. Later that year, Nadal played his first match against Roger Federer, who was ranked no one at the time. Beginning of a never-seen rivalry in tennis.
Nadal defeated Federer in straight sets and was among the six players who beat Federer in that year. In August, Nadal won his first ATP singles title. Nadal vs Federer in the Wimbledon final 2008 is regarded as the greatest match of all time.
Nadal has won around 20 grand slam titles, and he has tied with Roger Federer and Novak Djokovic. In terms of appearing in the final, he is no 3 with 28 appearances. Only Federer and Djokovic have more.
For most of his career until now, He has dominated everyone on clay. Because of his unmatched success at clay, he has been known as King of Clay.
Nadal won the French Open 9 times in his first 10 attempts. Nadal won his first French Open as a 19-year-old in 2005 and went on to win four consecutive titles from 2005 to 2008.
Nadal defeated Federer in 3 of those 4 finals, who was no one at that time. And he is the only player to beat Federer in four finals at the same major.
Nada's success isn't limited to clay courts. Over the course of his profession, he has won 450+ hard court matches as well as 450+ clay-court matches.
Nadal has won 36 Masters 1000 titles. He has won 26 master's 1000 titles on clay. He owns the record of most consecutive years of winning 1+ ATP singles titles 17 years from (2005 to 2021). Nadal won at least one grand slam title for ten consecutive years.
Nadal is one of those players who have won an Olympic medal for their country and won all four grand slams.
In tennis history, Nadal will go down as one of the greatest. His competitiveness and not giving up mentality set him apart from every other tennis star. His defense is also impregnable. The main reason he has dominated clay for so long.
Relationships
Rafael Nadal's wife's full name is Maria Fransisca Petrello Pascual, also known as fiscal Petrello or Mary by her loved ones. She is 32 years old, born in Manacor, Spain.
They both have known each other since their childhood. So both started dating way back in 2005 when she went to the University of Balearic Islands.
She was 17, and Rafa was 19 then. Being in a relationship for 14 years, the pair tied the knot in Jan 2019, shortly after announcing their engagement.
As of yet, they don't have any kids.
Networth, Cars & Houses
Nadal has a staggering net worth of over 200m dollars, making him one of the world's richest athletes.
The Spaniard owns some hot wheels, including Aston Martin DBS, KIA Stinger & Mercedes-Benz SL55.
Rafael Nadal loves to reside lavishly. Thus he owns two properties, one for his permanent residence and the other one for vacations.
His permanent residence in Mallorca was bought for 1.5 million USD, while his even fancier holiday house in the Dominican Republic cost him 2 million USD.
Apart from these properties, he also owns a private yacht because he is in party mode.
5. Dominic Thiem – 2nd Best Austrian Tennis Player
Fifth on our list is another promising hailing from Austria. With the ATP No.3 ranking in singles, Dominic Thiem does not need any introduction.
He was born on 3rd Sep. 1993, this Austrian player has made quite a name for himself in the tennis world. In fact, he is regarded as the 2nd best Austrian player in history, second only to Thomas Muster.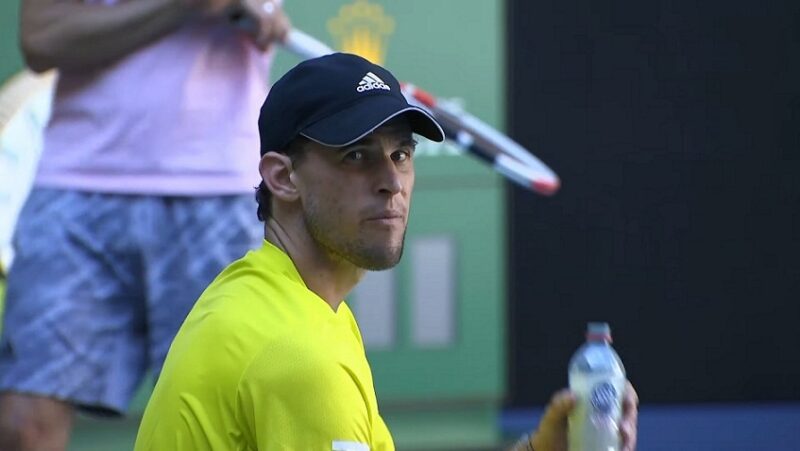 ""
Another distinction this tennis player has to his name is that he is the only player born in the 90s to win a Grand Slam. Also, the first player to win a US Open singles title for Austria.
Thiem has all the attributes that should be in a top-quality tennis player. He has a very powerful backhand. In fact, Roger Federer admired his backhand by saying, "I like Thiem's playing style. One-handed backhand, with great power, spins, slices, kicks. I have to be really careful."
Early Life
Dominic Thiem was born on dated 3rd September 1993 in Wiener Neustadt, Austria. Both of his parents, Wolfgang Thiem and Karin Thiem, are former tennis players and started coaching in a tennis academy in Vienna when Dominic was just four years old.
Although he started playing tennis when he was just six, still he was not trained officially by his parents till he was nine years old.
Thiem started his junior career by entering the International Tennis Federation (ITF) junior circuit when he was fourteen years old.
Playing Style
Dominic is an aggressive baseliner who is also very prominent in defense. Earlier in his career, he used both for backhand shots, then Bresnik advised him to change the two-handed backhand to one-handed backhand.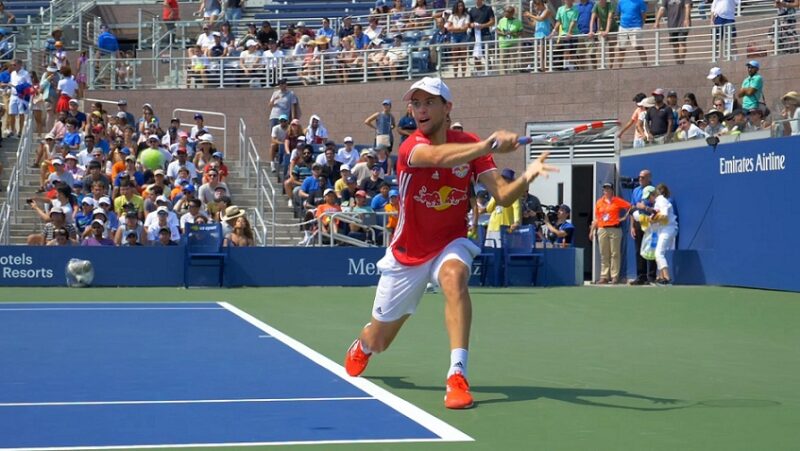 ""
This change in the backhand shots made him one of the few ATP players that use one-handed backhand.
Thiem Dominic is a clay-court specialist and has a higher win ratio on clay courts.
Professional Achievements
Thiem Dominic started his professional tennis career in 2011 by participating in the Future's event, where he competed against the former number one player, Thomas Muster, who made a comeback after 11 years.
From 2011-2013, he kept competing in the Future & ATP Challenger events.
""
2014 was a great year for Dominic's year, as he became the top 100 tennis player and closed the year with the youngest player to be in the top 50.
During 2015, he won 3 ATP titles, which gained him both respect and popularity. He shot to the top 10 in the following year when he reached his first Grand Slam final.
In the 2018 French Open, Dominic reached his first major Grand Slam final, and just after two years, he won his first Grand Slam in 2020 at the US Open.
This US Open final raised his ranking to number 3.
Relationships
Previously, Dominic dated the WTA player Kristina Mladenovic in 2019. After breaking up from the WTA player, Thiem Dominic is now in a relationship with a dancer and circus performer, Lili Paul. She is the same girl who won the dance reality show "Let's Dance."
Although both Dominic and Lily have not talked about this relationship publically, still, there are strong reports that they both are together and have long-term plans.
Networth, Cars, and Houses
Dominic Thiem has a net worth of 16 million USD. Although he is not on the rich tennis stars list right now, he still has a very bright future due to his current appraisal in the hype and uphill career.
Dominic Thiem is a brand ambassador of KIA and owns several KIA cars. Other than that, he also owns Range Rover and Ford SUVs.
Officially his house details are not available. Still guessing from the Instagram stories, he has a very lavish house back home in Austria.
2. Top Female Tennis Players
1. Maria Sharapova – Tallest Female Tennis Player
Maria Yuryevna Sharapova commonly known as Maria Sharapova was born on 19 April 1987 in Russia.
Though she played under the banner of Russia, she lived in the USA for most of her life and has been a permanent resident of the United States of America since 1994.
Maria Sharapova is one of the most popular female athletes of the 21st century not only in tennis but she made a big name of herself in modeling and attained a large number of endorsements.
This doesn't mean that she was any bad in tennis, in fact, she was the only one who gave competition to Serena Williams and took her to the limits at times.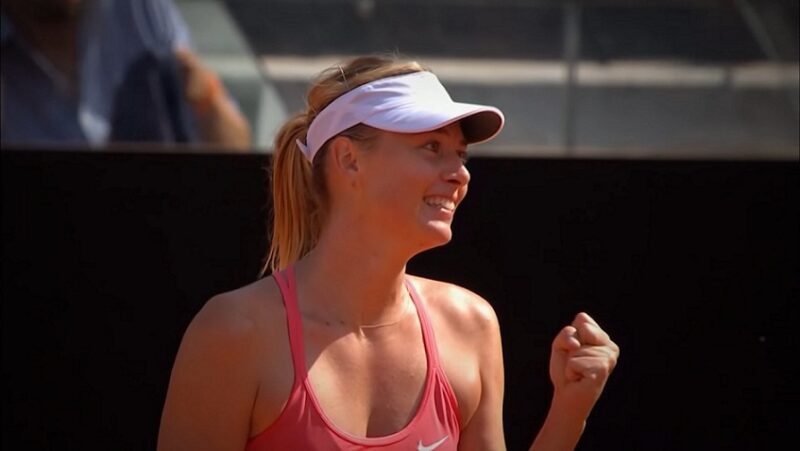 ""
Early Life
Sharapova started playing tennis at a very young age. In 1993 she caught the attention of a tennis star Martina Navratilova.
The tennis star suggested Maria Sharapova's father move to Florida. Following the suggestion, Maria quickly moved to Florida where she immediately earned a scholarship in the tennis academy.
Maria Sharapova first hit the tennis scene when she won the Eddie Herr tennis championship at the age of 13 in November 2000. This resulted in her winning the Rising star award, which is only awarded to players who are of high potential.
Playing Style
Maria Sharapova is one of the most offensive baseline women players in the history of tennis. Instead of the traditional volley, she uses the reverse forehand that assists her a lot in her game.
Also, she has a very strong service, which makes her dominant over her competitors. Although her service is not as strong as it used to be, still it is very powerful.
Her height also helps her a lot in making a proper angle, which is difficult for the opponents to get a proper shot.
This right-handed ninja loves to play on the clay courts with a very high percentage of winning.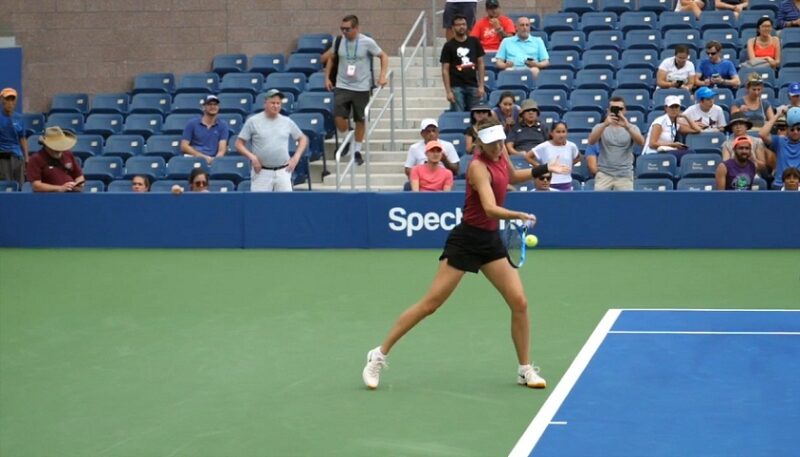 ""
Professional Achievements
In 2001, at the age of 14, Sharapova turned pro. At that time the playing style of women was changing to power and aggressive game.
This helped her a lot because of her height and strength. In 2003, she competed in every grand slam, finishing fourth at Wimbledon, her best record that year. She won her first WTA title in the same year.
Following the next year, Sharapova defeated Serena Williams for the first time when she won the final of 2004 Wimbledon, clenching her first grand slam title.
Sharapova was a victim of injuries, maybe it was because of her huge height and muscular body. Proving that your strength sometimes becomes your weakness too.
Sharapova's career went downhill because of her injury-prone situation. Forcing her to retire from the game at a young age
Maria Sharapova won her first grand slam singles title in 2004 when she defeated Serena Williams at 2004 Wimbledon who was a two-time champion. Sharapova clinched the title in two straight sets, absolutely demolishing the champion.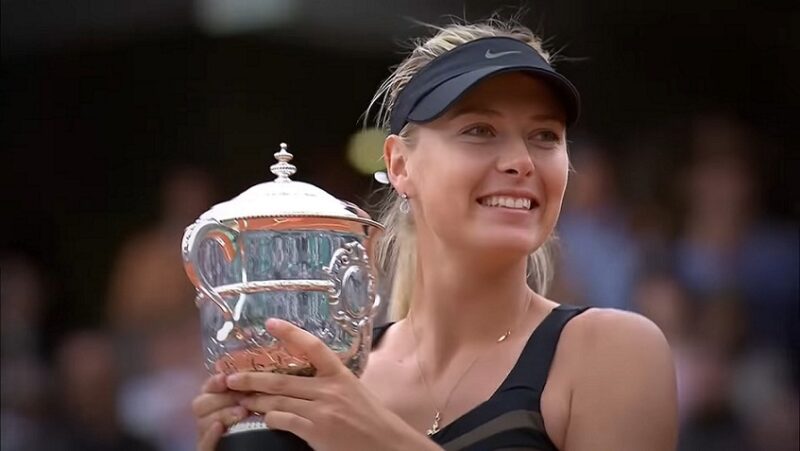 ""
In August 2005, Sharapova became the no 1 for the first time in her career. She became the first Russian to achieve the top spot in the WTA rankings.
To date, Sharapova has a total of 36 WTA titles to her name. Maria Sharapova has won 5 grand slams. Two french Opens and one each at the US.AO and Wimbledon, Sharapova has also won three double titles and she clinched a silver medal in the 2012 London Olympics.
Relationships
Maria Sharapova has a whole list of boyfriends. She has dated a bunch of different people including top-notch businessmen and his fellow tennis stars.
The first public relationship of Sharapova was with her co-tennis star, Andy Roddick. They were both seen together during the 2006 US open. She was even caught wearing a shirt that said: "Love is in the Air". Sharapova dated Roddick from 2005-2006.
Sharapova also dated the famous TV producer Charlie Eberlson for a few months in 2008. In fact, it was her shortest relationship of all.
Sharapova started dating the Basketball star Sasha Vujanic in 2009. It was an open and loud relationship.
They both were often spotted together, and Vujanic often visited Sharapova during her matches. Although they got engaged in 2010, still this relationship could not thrive, and finally got separated in 2012.
From 2013-2015, Sharapova was in a relationship with Grigor Dimitrov, a co-tennis star. This relationship was abolished in 2015. The most interesting thing about this relationship is that Dimitrov dated Sharapova and her fierce rival Serena Williams.
Currently, Sharapova is dating a UK-based businessman, they both started seeing each other in 2018, and till now they are in a relationship.
Networth, Cars & Houses
Maria Sharapova is one of the richest tennis stars. Although she made over 38m USD prize money, still, most of her net worth comes from her sponsorships and brand endorsements.
In fact, she made over 300m USD from her sponsorships that making her net worth rise to 200m USD.
Another interesting thing here is that Sharapova has been the top paid female athlete for 11 consecutive years.
Considering Shaprapova's staggering wealth, the former tennis star has not splashed enough money on the car. However, she owns Porsche 911, Porsche Panamera GTS, Porsche Boxster Spyder, and a Cayenne Turbo.
Talking of houses now, Maria owns several properties across the globe but adores her LA house. In fact, he had been quarantined in this house during the pandemic outbreak.
It's a minimalist house designed with a modern taste. Although it has a small covered area, still it has all the amenities like the swimming pool, lawn, etc.
Comparison Between Nadal Federer Djokovic
Rafael Nadal, Roger Federer, and Novak Djokovic are widely recognized as three of the greatest tennis players in history. Despite their extraordinary achievements, they each possess distinctive playing styles. Nadal dominates clay courts with his powerful shots and spin, earning a remarkable 13 French Open titles. Federer's graceful elegance and impeccable shot-making have made him a grass court specialist, securing a record-breaking 20 Grand Slam titles. Djokovic's adaptability and mental resilience have propelled him to success on all surfaces, contributing to his impressive tally of 20 Grand Slam titles.
The head-to-head matchups between these players have been fiercely contested, showcasing their unwavering competitiveness. Nadal and Djokovic have engaged in unforgettable battles on clay and hard courts, while Federer and Nadal's rivalry has produced some of the most memorable matches in tennis history. These captivating encounters have captivated fans worldwide and elevated the sport to new heights.
Furthermore, their contributions off the court are equally significant. Federer's philanthropic endeavors, Nadal's charitable foundation, and Djokovic's advocacy for player rights demonstrate their commitment to making a positive impact beyond the game. They serve as inspirational figures and ambassadors, utilizing their influence to drive meaningful change and inspire others.
In summary, Nadal, Federer, and Djokovic stand out as exceptional athletes with distinct strengths, achievements, and playing styles. Their intense rivalries, remarkable records, and off-court endeavors have shaped the sport of tennis and left an indelible mark on fans worldwide.
Final Words – Tennis Players
The list of the top tennis players keeps on evolving with the wins. We have put together a complete list of the best male and female tennis players in 2023.
We have also added their attributes, remarkable achievements, houses, net worth, and personal life.
Our best male tennis players list includes Novak Djokovic, Roger Federer, andy Murray, Rafael Nadal & Dominic Thiem. While the top women tennis player on our list is Maria Sharapova.
You can tell us about your list of the top tennis players in the comments section below, we would love to hear from you.
""