Are you also confused about the mystery of Tennis shoes vs trainers because they are both literally look the same!!!
Well, they are not the same. If you ever played a Tennis sport, which involves lots of running, foot movement, and sliding, you would know why special shoes are required to play this game. Every famous Tennis player invests in the best shoe brand because compromising on footwear is not an option while playing Tennis.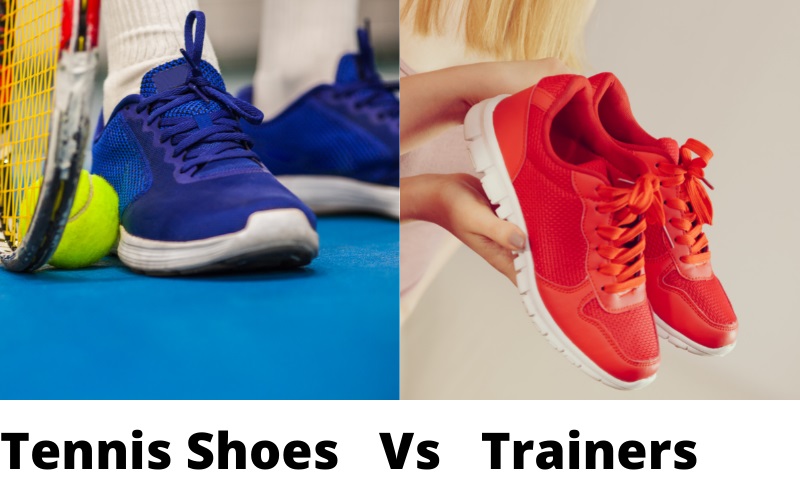 Therefore, Tennis shoes are made with special leather with the appropriate mid and upper sole, which will provide the required protection and stability to the foot and help the player move with confidence. However, trainers are a comfortable shoe type, almost similar to sneakers, but are made for versatile use.
When to Wear Tennis Shoes?
The name says it all. Tennis shoes are designed specifically to wear while playing the sport.
Usually, Tennis shoes are made of special leather, nylon, or canvas that may not give a stylish look but provide next-level comfort and protection to the feet. The bottom of the shoe is designed to enjoy lateral movements across a flat courtroom surface. Moreover, since the player has to move quickly, jump, and make the sliding moves, the chance of ankle injury is high; thus, the stable bottom prevents the player from hurting his foot.
Nevertheless, many famous players invest time, energy, and resources to collaborate with brands and design their footwear collection according to their playing style, foot, and comfort level. Hence, this dedication proves that only a solid racket is not essential to play Tennis; a reliable and durable Tennis shoe also plays a vital role in successful events.
When to Wear Trainers?
Another athletic shoe type we have is trainers. You may also come across Trainers with the name of sneakers, which are the most common type of shoes that almost everyone wears in our daily lives. Surprisingly, Americans called them Sneakers, whereas these shoes are known as Trainers in the UK.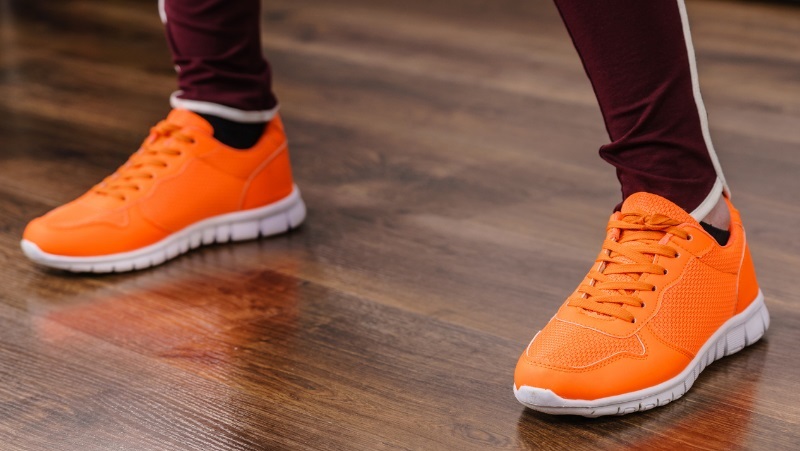 Unlike Tennis shoes, we can wear Trainers for walking, jogging, gyming, weightlifting, plyometric training, and performing other activities. In short, they are designed to offer lateral support. However, it is not recommended to wear it as an alternative to your daily wear because it comprises extreme cushioning that can lead to poor foot posture, which is hard to reverse.
Wearing trainers that are comfortable keeps your foot flat, and prevents you from any potential injury. Still, it is recommended to wear them in moderation and when required.
What is the Difference Between Tennis Shoes & Trainers
Many people get confused with the distribution and designs of athletic shoes. But, Tennis players know the importance of Tennis shoes, and other athletic players prefer Trainers as they support multidirectional and lateral movement.
I know you must be thinking both shoes should be similar as the purpose of wearing them is almost the same. Still, unfortunately, despite having the same purposes and requirements to wear, Tennis shoes are relatively different than other types of shoes. Hence, Tennis shoes vs Trainers are the real mystery, which is debatable to date. Let's discover what makes them different, and which one is better among Tennis shoes vs trainers.
Durability
Tennis shoes are more durable than Trainers. If you wear Trainers on the Tennis court, they will be torn apart due to the aggressive courtroom surface, sliding and quick movements. Also, given the risks of potential injuries, you can see the enhanced protection support from the Tennis shoes.
In addition, unlike tennis shoes, you can see socks pops up through the Trainers, and they are relatively easy and quick to wear than Tennis shoes.
Next-level Support
Suppose your main concern is providing stability and support to the ankle, which is necessary while playing Tennis due to the aggressive jumps and movements. In that case, you need to invest in Tennis shoes. The special design locks the foot in the shoe with the solid ankle protection property. However, the inner material is soft and warm to not promote any harshness or allergy, even in prolonged wear.
Structure
First, you should know that the Trainers are designed to provide lateral support for versatile movements; they are flatter and sturdier than other athletic shoes. Also, they are supposed to ensure stability for weighted movements, especially while gyming or weightlifting activities; that's why Trainers are relatively wider.
However, the structure of the Tennis shoe is entirely different as they contain massive cushioning to absorb the impact of feet hitting the ground. The mid-range, upper, and lower sole is sturdier than you can imagine with the ankle lock for football protection.
Weighty Shoes
Trainers win this point because they are super lightweight and easy to carry than Tennis shoes. Tennis shoe weighs more due to the leather material, and the Trainers have a flat surface with lighter cloth material used inside to promote flexibility and easier movement.
And thus, you cannot wear Tennis shoes for walking, gyming, and other fitness activities, but you can wear Trainers to play Tennis.
Which is More Expensive?
The costs of the shoe depend on the shoe brand, model, and innovative technology integration. If you opt for the inexpensive Trainers, they won't last long due to the low-quality rubber soles, poor stitching, and almost no air ventilation in the soles.
In addition, Tennis shoes are more expensive in general than Trainers because they are designed considering the certain qualification of the courtroom and the high-quality leather used.
Availability
Of course, Trainers are easily available worldwide due to their versatile usage and various size options. However, you may have to go through a real hassle to get Tennis shoes that perfectly fit your foot. Though you can buy Tennis shoes online, considering the expensive price tag and hard-to-find size element, it is a risk.
Can You Wear Trainers For Tennis Shoes
While trainers and tennis shoes may look similar, it is not recommended to wear trainers for playing tennis. Trainers are designed to provide cushioning and support for a variety of sports and activities, but they lack the specific features that tennis shoes have, such as a flat sole and reinforced toe area. Wearing trainers for tennis can increase the risk of injuries such as ankle sprains and slips on the court. Therefore, it's recommended to wear proper tennis shoes for playing tennis to avoid potential injuries.
Difference Between Tennis Shoes and Training Shoes
The main difference between tennis shoes and training shoes is that tennis shoes are specialized footwear designed specifically for playing tennis, featuring traction, lateral support, and durability tailored to the sport's demands. Training shoes, on the other hand, offer versatility and comfort for a variety of fitness activities, with flexibility, cushioning, and overall support as their key features.
Final Words – Training Shoes vs Tennis Shoes
There was no distinction between athletic shoes in old times, and only one footwear was used to play different sports. It may satisfy your playing cravings but end up with lots of injuries, hurt, and match losses. As a result, different shoes were started to design while match the sports playing requirement, and thus Tennis shoes were born. This article will help you understand the mystery behind the Tennis shoes Vs Trainers debate.