Understanding the differences between tennis shoes vs badminton shoes is essential for players to choose the appropriate footwear that provides the necessary support, cushioning, and traction for their respective sport.
Superficially, badminton and tennis might seem to be indistinguishable for people who are not aware of either one of these two sports. Although there are many resemblances between the two sports, they are completely different. The tools, courts, skills, and footwork required for tennis and badminton are utterly different. If you are wondering whether to explore either one of these two games, then you will have to get the know-how of both games to select the appropriate one for you.
If you are wondering how to use your tennis shoes for playing badminton, then you are at the right place. Before stepping onto the court wearing one, you must know the difference between tennis shoes and badminton shoes. Don't know what the difference is between tennis shoes and badminton shoes? Or whether you can use these as an alternative to each other or not? Tennis shoes vs badminton shoes are one of the most debatable topics among racquet players. Here I have brought to you all you need to know. Scroll down to find out.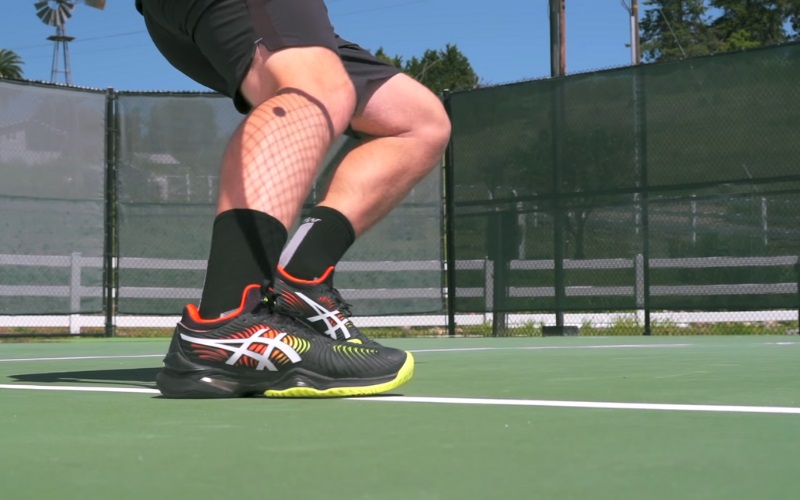 Tennis Shoes vs Badminton Shoes
Any shoes which are specially designed and dedicated to being used for a specific game are manufactured by keeping the needs of the particular game in mind. As tennis and badminton differ in many aspects, these games need different shoes. Tennis is more focused on running, controlling a rubber ball, and horizontal footwork on outdoor courts. Whereas, badminton includes jumping, a lightweight shuttlecock, and vertical footwork. Keep reading to find out further details about the differences between these two types of shoes.
Tennis Shoes
Tennis is an outdoor racquet sport that involves more left-right movements, speed, heavy racquet, and a rubber ball that needs to be thrown with more force toward the opponent at the other side of the tennis net placed in the middle of the outdoor court. Because of all these requirements, it is necessary to get a pair of efficient tennis shoes to accompany you on the tennis court.

Features Of Tennis shoes
1. Weight
Compared to badminton shoes, tennis shoes are much heavier as they are designed for fast speed, left-right footwork, sudden change of angle, and more support for the movement of a heavy racquet. So, these tennis shoes are designed to have more protection and cushioning. Tennis players are more prone to ankle injuries, so more foam is added around the ankle region as well as around the heels for better support.
2. Sole Technology
Tennis shoes are designed by keeping the different types of outdoor tennis courts in mind. As compared to the badminton shoes which are mostly designed for indoor courts, you will find that tennis shoes have much more grip and friction to save the players from falling during fast and abrupt motion on the court. The sole of tennis shoes makes them compatible with many different courts.
3. Built
The overall build of the tennis shoes and badminton shoes might seem to be the same, but you can easily notice the difference if you have used both of these shoes. The tennis shoes are slightly more rigid around the heel area. The rigidity of these shoes does not make them uncomfortable while playing. Rather the rigid structure provides more support and protection by keeping your ankle in position. So, you can save yourself from any unexpected injury on the court.
Badminton Shoes
Badminton and tennis are similar in terms of being racquet sports with each player on the opposite side of the net. However, badminton is also a racquet sport like tennis but it includes a light-weight racquet, forward-backward movement, jumping, shuttlecock, leap, and a heavier net on an indoor court. These differences between badminton and tennis make it necessary to have a separate pair of badminton shoes to help you perform better on the court.

Features Of Badminton Shoes
1. Weight
Badminton shoes are much lighter compared to tennis shoes because they don't have thick soles and additional cushioning. Badminton needs players to jump as well as move forward and backward in order to hit the shuttlecock. Heavy shoes can make it difficult for the players to jump and move with ease, so the light weight of these shoes helps the players on the court.
2. Sole Technology
The indoor courts of badminton are usually made up of less tough material than the concrete courts of tennis. The badminton courts are made up of wood floors, synthetic materials like Polyurethane and Polyvinyl Chloride, or acrylic material. In addition to a thin insole, these shoes have a circular traction pattern on the outsole to provide you with a stable landing while jumping.
3. Built
Tennis shoes are more rigid as compared to badminton shoes. The ankle support of the badminton shoes is not as tough as compared to tennis ones because the rigidity can affect your footwork. You will feel uncomfortable while leaping and jumping on the court as the rigid ankle support limits the players' movement on the badminton court. The badminton shoes have a much slimmer build compared to the tennis ones and provide more stability to players.
Difference Between Tennis Shoes And Badminton Shoes
While both tennis and badminton are racket sports, the movements and requirements of these sports are different. As a result, the shoes worn for these two sports also differ in terms of design and features. Here are five key differences between tennis shoes and badminton shoes:
Sole Design: Tennis shoes feature a flat sole, whereas badminton shoes have a non-marking gum sole that is designed to provide superior traction on the court. The gum sole provides excellent grip on the smooth surface of the badminton court, allowing players to make quick movements and sudden stops without slipping.
Toe Cap: Badminton shoes often feature a reinforced toe cap to protect the toes during the high-speed movements of the game. On the other hand, tennis shoes generally have a softer toe cap as the players do not need as much protection as in badminton.
Weight: Badminton shoes are usually lighter than tennis shoes. Since badminton players have to move quickly and frequently in all directions, they need shoes that are light to reduce the strain on their feet and legs. Tennis shoes, on the other hand, are typically heavier to provide the necessary support and stability for lateral movements.
Cushioning: Badminton shoes offer more cushioning than tennis shoes to absorb the high-impact movements of the game. Tennis shoes have less cushioning as the impact on the feet is lower than badminton.
Upper Design: Badminton shoes often feature a more breathable and flexible upper design to allow for greater foot flexibility and to keep the feet cool during play. Tennis shoes have a sturdier and more supportive upper design, providing stability for lateral movements.
In conclusion, while tennis and badminton shoes may look similar, they have significant differences in design and features that cater to the unique needs of each sport. Choosing the right shoes for the sport can help improve performance and reduce the risk of injuries.
Can We Use Badminton Shoes For Tennis
While badminton and tennis may seem similar, the footwear required for each sport is quite different. Badminton shoes are designed for indoor courts with a non-marking sole, lightweight and flexible for quick movements.
In contrast, tennis shoes are designed with more support, cushioning, and durability for the lateral movements and impacts of a hard court. While it may be possible to use badminton shoes for tennis, it is not recommended due to the lack of proper support and cushioning, which could lead to injury and discomfort during play.
It's best to invest in proper tennis shoes for the best performance and safety on the court.
Final Words – Tennis Shoes Vs Badminton Shoes
I hope that you have found an answer to the tennis shoes vs badminton shoes debate. These two types of sports shoes are poles apart even though the nature of these two sports are quite similar in many ways. Badminton shoes focus more on stability and ease of movement by being less padded and light in weight. Whereas tennis shoes are dedicated to providing ankle support and grip. Now it will be easier for you to select the best one for you in no time. So, what are you waiting for? Go and grab yours as soon as possible.
Frequantly Asked Questions (FAQ)
1. Can tennis shoes be used for badminton?
No, tennis shoes and badminton shoes are different. Each one of these shoes is designed to be used on a particular type of court. The tennis shoes are designed for outdoor courts, while badminton shoes are best for indoors. You cannot wear tennis shoes for badminton as they are heavier, rigid, and have different builds than that required for badminton. Tennis shoes can damage the indoor court floor as well as affect your performance.