Tennis shoes vs Pickleball shoes is a comparison that drives even the highly skilled professional players crazy. What is the difference between the two anyway? And if, by any chance, there is a difference between them then why are pickleball shoes so hard to find? Believe me, these questions used to haunt me too, and that too for a very long time. Until one day, I figured out the answer to this question when somebody told me about the composition of the material used in the preparation of the courts for both these sports.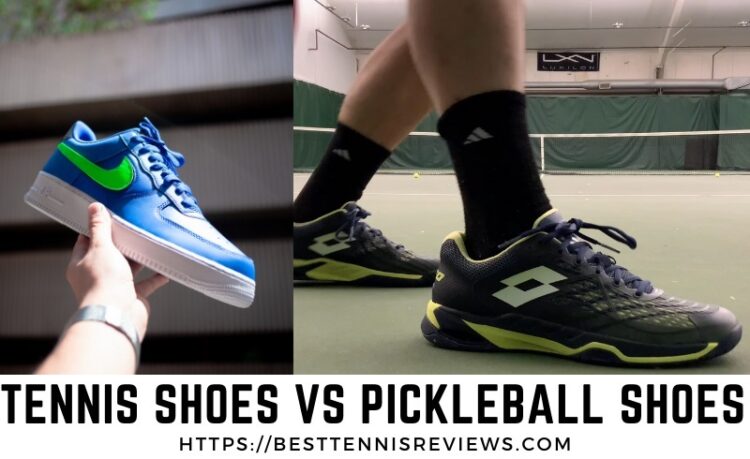 Wondering how these two are related? I bet you do. So, every sport is differentiated on the basis of the grounds it is played on. For example, cricket is played in a totally different stadium than hockey, squash, tennis, and so on. And every sport has a different shoe just to cater to the field/court it is played in. With the similar courts for both pickleball and tennis, there is no need to buy a separate pair of shoes for both these games, is there? Unless, of course, you are playing indoor pickleball. Sounds intriguing? Take a few minutes to read out the rest of this article.
Tennis Shoes VS Pickleball Shoes
Does A Pickleball Shoe Even Exist?
The answer is no. Plain and simple. You may find a few shoes branded as pickleball shoes but that is just an outlook. The reason being, pickleball is more or less the same as tennis. As a result, there is not much of a difference between tennis shoes and pickleball shoes. Hence, they don't bother making separate shoes for this sport. You are just advised to use tennis shoes for outdoor pickleball. However, for indoor pickleball, you might want to go for a pair of shoes that are more court friendly. So, if you ever see a shoe branded as pickleball, don't fall for it!

Can I Use Tennis Shoes For Pickleball?
As I mentioned earlier, there is no such thing as pickleball shoes. You will just have to use other court shoes for playing this sport., For example, tennis shoes are ideal for you if you are planning to play pickleball outdoors. However, the outer soles of tennis shoes are quite hard, which means that they can damage the indoor courts. So, tennis shoes wouldn't be the perfect option in this case. However, you can try out volleyball shoes or better yet, squash shoes for playing indoor pickleball.

In any case, the question remains. What makes tennis shoes a worthy option for outdoor pickleball? The answer is really quite simple. However the differences might be between pickleball and tennis, given the sports equipment, rules, and playing strategies, the one thing that is exactly the same between the two games is the playing court. Both the pickleball court and the tennis court are made of the same material i.e., concrete with a layer of acrylic on top. It means that the same pair of shoes can be used for playing both of these games simultaneously.
Similarities Between Tennis Shoes And Pickleball Shoes
Midsoles
Both tennis and pickleball require a shoe that has a highly durable yet comfortable midsole. Good durability will prove to be a plus point on the hard gritty surface that is ready to take a toll on the soles of your shoes, especially the midsoles. So, the midsoles of these shoes are made of double rubber that provides excellent support and absorbs the impact of walking as you go about playing your sport.

Cushioning
Both pickleball and tennis require the player to be highly agile and well-coordinated. So in such a situation, you need a pair of shoes that are highly comfortable and light. Plus, your shoes must have the ability to provide you all-around protection so that when you make sudden movements you won't get injured. Hence, both the pickleball and tennis shoes have extra cushioning on the inside.
Final Thoughts
To sum it up, it is safe to say that you can use tennis shoes for outdoor pickleball without any concern for your own safety as well as the safety of the court. These shoes will provide you with all the support and coordination of a perfect sporty shoe. Plus, they are highly comfortable and light. However, if you want to play indoor pickleball then you must use volleyball shoes or squash shoes for the sake of the expensive coating on the indoor courts. Just remember, never ever use running shoes for pickleball either indoor or outdoor!
FAQs
Can Tennis Shoes Be Used For Pickleball?
Yes, of course, you can wear tennis shoes for pickleball. In fact, tennis shoes are an ideal alternative for pickleball given the similar court these sports are played. However, you might want to go for something softer if you plan to play indoor pickleball because the hard soles of a tennis shoe will damage the hardwood of the indoor court beyond repair. And you might have to pay for the damages and end up getting your subscription canceled.
Are Tennis Shoes and Pickleball Shoes The Same?
Yes, pickleball and tennis shoes are more or less the same. This is because they are both played on similar grounds. However, you will have to use volleyball shoes or squash shoes for indoor pickleball just to protect the indoor courts. For outdoor pickleball, you might as well use your tennis shoes because there is no difference between the two whatsoever.