Tennis Footwork drills are fundamental for every tennis player in order to remodel his game and reach new heights. Roger Federer once said that every game begins with feet, so tennis footwork drills are the key feature to conquer any game. Tennis footwork drills let you groove more shots with better balancing and foot positioning by letting you cover more court. Good positioning is also pivotal in saving your energy and letting you hit the ball at the right time while leaving your opponents mystified.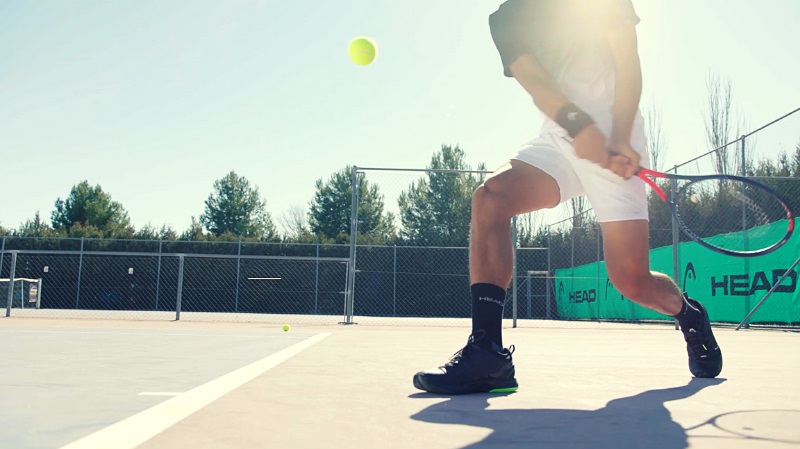 We have brought the best footwork drills which can let you play tennis on any tough or smooth surface with sharper movements. For detail guide on on tennis playing techniques you can check our complete guide on how to play Tennis.
1.

X-Drill – Tennis Footwork Drills
X-Drills are helpful to increase your forehand and backhand shots by improving your positioning and shot timings.
For this drill, you need a tennis partner to stand in the center. You can also use a tennis machine for this purpose. The coach will be throwing balls around the four corners while standing in the middle, and you will be hitting the balls from every direction towards the support. This helps you improve your grooves, and you will not be missing any deeps or short hits anymore.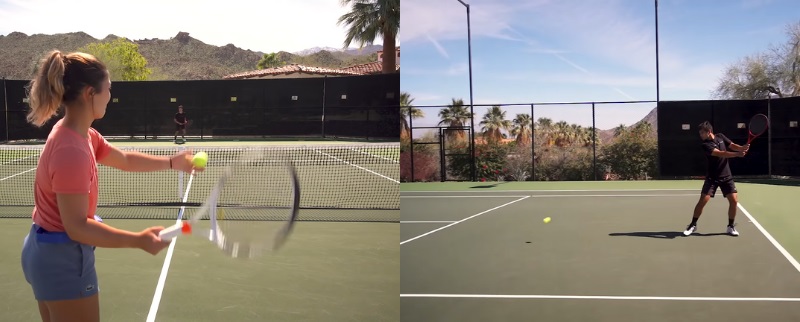 2.

Offensive Transition Drill – Tennis Footwork Drills For Seniors
Offensive transition drills are the most popular among tennis footwork drills. It helps to upgrade your footwork when you are playing at the baseline of the tennis court. You can easily make a point at the net attack if you have low latency and hit the ball before it connects the ground. This technique will leave your audience amazed that you have hit a score while defending the ball only.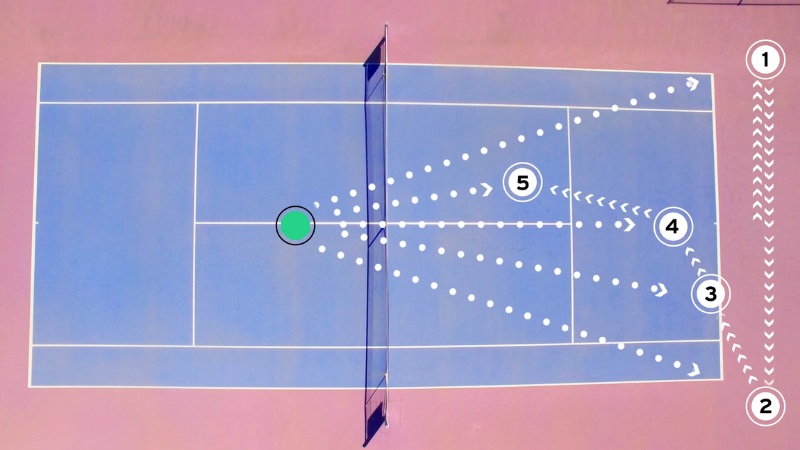 For this drill, you need to practice cross step, lateral step, solid step, split steps as your coach will be making 5 shots to cover the full court.
 First, stand at the corner of the baseline lateral solid step. This will make you ready to reposition yourself in the direction of the ball.
When the ball comes, use a cross-step so that you can reach the ideal position at once.
 Now use a split step and sidestep to reach the other corner of the baseline and hit the ball.
At the striking point, for better shots, you need to put your bodyweight ahead so you can make a deep shot.
Use small steps in order to get the precise position.
For heavy shots, try split steps in order to reach the net and hit the volley.
When you are in proximity to the service box, use a split step. It will aid you to hit the volley with your forehand or backhand and make the defense an offensive shot.
If you practice these drills enough, you'll never miss a volley shot.

3. Random Feed Drill
This drill enhances your swiftness by reducing latency on the court for your forehand and backhand shots. You can master this drill by focusing on your prediction, balance, and positioning while you are in unfavorable conditions.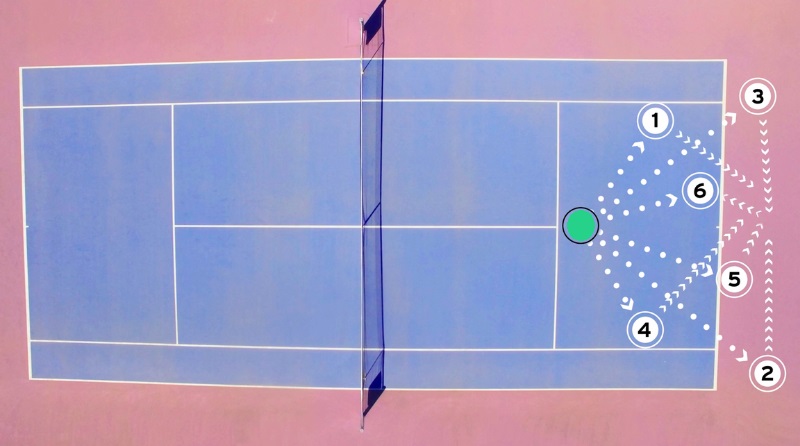 For this drill, your coach will be giving 6 feeds in random directions while staying near to baseline. To groove every hit, you need to reposition yourself on the baseline. While performing this drill,
Make yourself comfortable at the baseline and try to reduce the pressure.
Use split steps for perfect reaction time and find an appropriate position for
While hitting, put your weight forward in order to lower your center of gravity and try to hit at your front foot. This will let you gain control and stability on your baseline shot.
You can gain more swiftness and reduce latency while standing on your toes.
Practice this drill until you reach your desired reaction time and agility. Your feet muscles will be strong and work like pistons.
4.

Lateral Cone Slalom Drill – Tennis Footwork Drills With Cones
This drill helps to improve your foot speed and coordination so you can reposition yourself in no time to the direction of the ball. For this drill,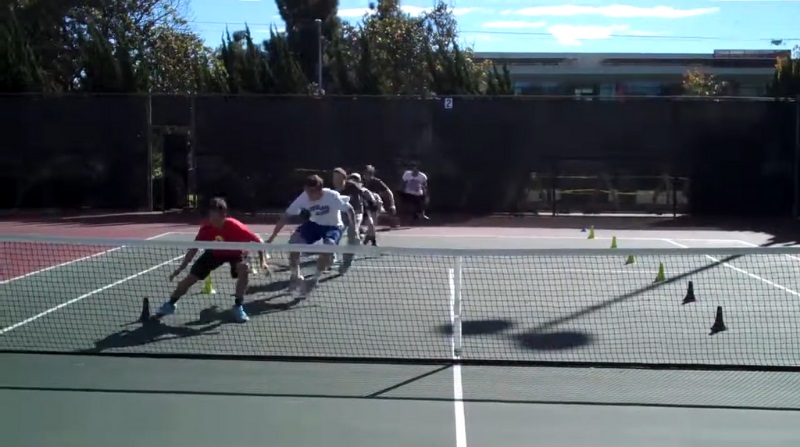 Make a queue of cones along a straight line about one yard apart. The cones should have a small distance in between.
Now stand on one end of the cone facing the queue horizontally.
 Start intertwining through the cones while making small lateral adapting steps forward in a crosswise direction.
When you reach the end of the queue, start sprinting back until you reach the starting point.
Repeat the drill several times after taking a few minutes breaks. This foot drill will upgrade your balance while repositioning and give your feet a thundering speed.
5.

Ladder Drills – Tennis Footwork Drills With Ladder
Ladder drills help you to improve your balance by reducing the latency in small steps and increasing your reaction speed. For this drill,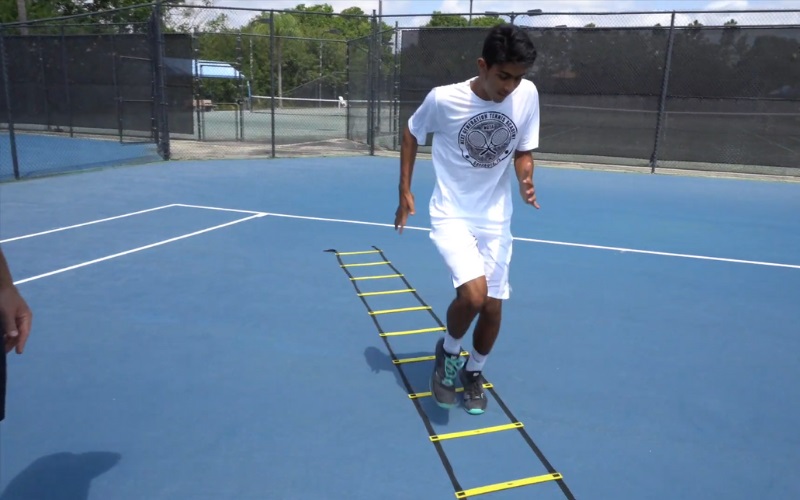 Draw a ladder with chalk or rope on the ground.
 Start jumping in every box, running forward.
Now start running backward while making sure your feet remain in the box for a smaller duration.
You can also modify your ladder run drill by stepping both your feet in the box at a time. As you become proficient in ladder running, you can also modify it by using lateral runs, adding high knees, right and left foot are shuffling, carioca or in and out. These exercises will increase your blood supply resulting in precision and coordination in every step you will make.
6. Jumping Rope Drill – Tennis Footwork Drills At Home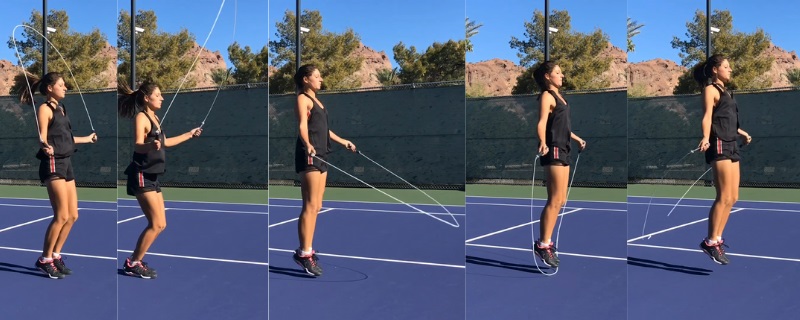 Among the traditional tennis footwork drills, jumping rope is the most functional drill which can enhance your fortitude level while making your feet more strong by staying alert. This also increases your coordination among your hands and feet so you can groove a volley with zero latency.
Tennis Footwork Drills For Beginners
Footwork is a crucial aspect of tennis that impacts a player's performance. For beginners, incorporating footwork drills into their practice routine can help improve their agility, coordination, and balance on the court. One such drill is the "ladder drill," which involves quick and precise movements in and out of a ladder placed on the court. Another drill is the "cone drill," where players move around a set of cones in various patterns to improve their footwork and change of direction. Additionally, "side shuffles," "backpedaling," and "cross-over steps" are other footwork drills that beginners can practice to improve their footwork and overall performance on the court. Regular practice of these footwork drills can significantly enhance a beginner's game.
Final Thoughts – Tennis Footwork Drills
In tennis, your strong feet can help you hit far-away shots and win every battle. Therefore, tennis footwork drills are crucial to give you swift movements around the court and balance your body to control the ball with the shots you make. Make sure you are given enough time to relax your muscles to avoid any risk of injury.