All tennis shoes are not the same. There are numerous types of tennis shoes available out there. If you are a dedicated player of tennis, then you must be familiar with these divergences of tennis shoes available in the market. Never heard of non-marking shoes ever before? Don't worry. If you are a new entrant in the tennis game, then you might find it hard to get a suitable pair of shoes for your tennis court. Tennis shoes tend to vary in style, build, sole technology, and flexibility.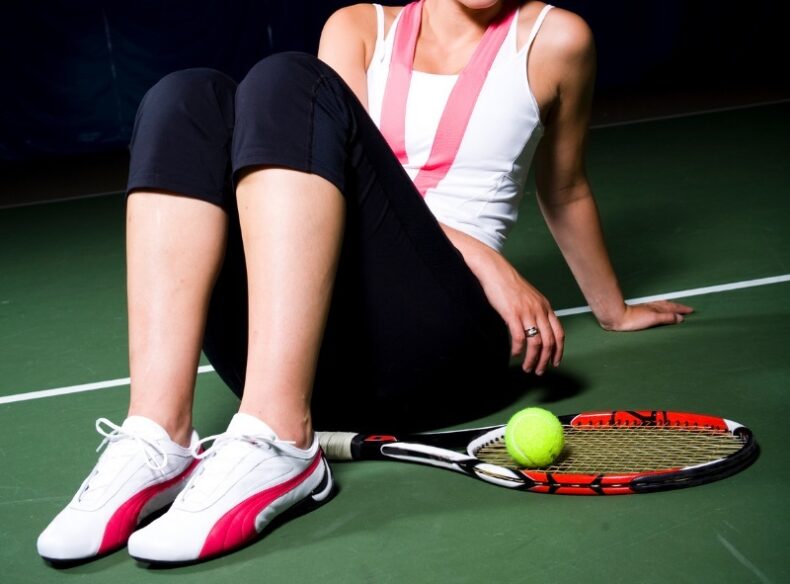 Here I have brought to you all that you need to know about non-marking tennis shoes? What are their benefits? Are tennis shoes non-marking or not? And when is it suitable to use non-marking tennis shoes? With a little guidance and help you can identify whether the tennis shoes that you are planning to buy are non-marking shoes or not. So, keep reading to find out why you even need one.
Are Tennis Shoes Non-marking?
Non-marking Shoes
The non-marking shoes are those shoes that do not damage the court surface. The non-marking shoes differ from other shoes in their sole pattern. Unlike the other tennis shoes which are designed to enhance traction and provide stability against slipping on the court, the non-traction shoes have simpler and less deep traction patterns on the outsole. The material used in the outsole is softer and non-hardy, so even if you have to perform intensely in a match there will be no detrimental damage to the surface of the court.
Non-marking Tennis Shoes
You can find non-marking tennis shoes easily in the market. Non-marking tennis shoes are an essential part of the tennis gear for players who prefer indoor tennis games as compared to outdoor games. The indoor tennis courts are different from the outdoor courts. The indoor court surfaces are usually made up of smooth wooden flooring material, have a carpeted floor, or a surface covered with a synthetic coating.
For such surfaces players need to go for non-marking shoes like the ones with deep studs or cleats can reduce the life of the court, damage the floor, or cause lasting and unpleasant scratch marks on the floor. Non-marking tennis shoes, on the other hand, have a pattern that not only enhances the stability and traction but also helps the players contribute less to the damage of the court.

What Are The Benefits Of Non-marking Shoes?
Non-marking shoes are not limited to tennis only. You will find non-marking basketball shoes, golf shoes, gym shoes, running shoes, and football shoes in the market. These shoes are worn for indoor usage. The indoor playing areas are less robust than the outdoor ones. Indoor courts in basketball, badminton, tennis, and gyms have wooden flooring which is prone to be abraded easily. In order to protect the flooring and reduce the risk to the life of the court players need to wear non-marking shoes. You will be fined or even not allowed to play if you don't have non-marking shoes in hand.
Identification Of Non-marking Shoes
Now that you know what non-marking shoes are, it will be easier for you to identify one by just looking at the sole of the shoes. Are you still struggling to differentiate non-marking shoes from outdoor shoes? Here I have brought to you some easy methods that will help you select non-marking tennis shoes in no time. Non-marking shoes are different from outdoor tennis shoes in many different ways. Let's discuss it in detail.
The first and easiest method is to look for the non-marking feature in the description that is provided by the makers or sellers of the shoes.
You can identify non-marking shoes from marking shoes with the help of the color of the outsole. The color of the non-marking tennis shoes has a lighter shade, so if your tennis shoes have a lighter tone of plastic or rubber used in the outsole there is a strong chance that your shoes are non-marking shoes.
The depth of the traction pattern can also help you identify non-marking tennis shoes. These shoes don't have any sort of studs or cleats. The traction pattern is not deep.
The material of the outsole is soft and less rigid than that of the outdoor shoes. The material tends to have a bouncy effect and resist indentation, so there will be no such marks if you apply pressure on it.
You can identify a tennis shoe with non-marking qualities by testing it on white paper or another light-toned surface. You will just have to rub the sole of your tennis shoes and examine the paper or the surface for any scratch or marking. If no damage has occurred to the paper or to the surface, then the shoes can be said to be non-marking shoes.
Benefits of non-marking tennis shoes
The non-marking shoes offer you many benefits and improve your performance during the game. Some important benefits of non-marking tennis shoes are described in this article.
They are comfortable
They offer you better grip
They enhance foot movements
They improve flexibility
They improve your response time
They reduce the injury risk
Conclusion
I hope that now you know everything about non-marking shoes, what are their benefits? How to identify non-marking shoes? And are tennis shoes non-marking? Non-marking shoes are less damaging and suitable for indoor tennis games. If you enjoy outdoor games then you should not wear non-marking tennis shoes on the outdoor courts like the grass, concrete, acrylic, or clay ones. Wearing non-marking shoes on outdoor courts will increase the chance of slipping and injury.