People sometimes ask me, can tennis shoes be used for volleyball? And every time I answer this question with a question of my own: Can you wear flip-flops to a swimming pool? What a bizarre question, right? Exactly! It would be pointless and risky to do any such thing.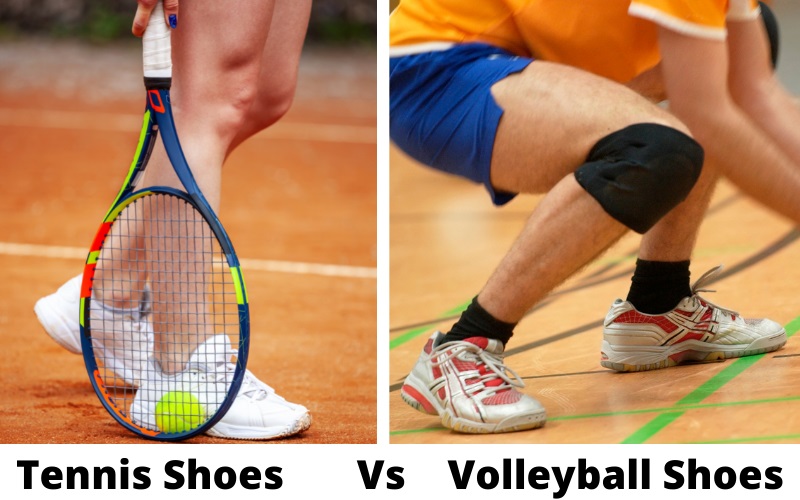 Every sport is different, hence you must get the sports equipment required for it. Otherwise, you will either get yourself injured or kicked out of the team for meager performance. If you want to know everything there is to know about this matter then keep on reading this article to the very end!
Are Tennis Shoes Good For Volleyball
Let's not waste any time playing around with words. Here's your answer. You can NOT wear tennis shoes to a volleyball game. There, plain and simple. It is just too risky to use sports equipment for one game for any other kind of sport. It will not only affect your performance but will also expose you to the possibility of getting seriously injured. Curious to know why it is so imperative to use proper shoes for volleyball? Following are a few reasons why you must use the right shoes for this game. Go through each and every one of them to get a complete picture.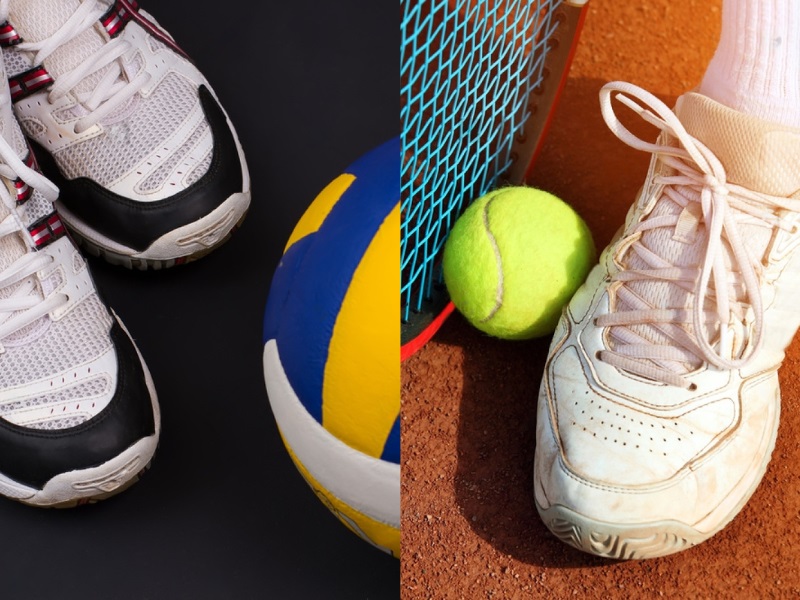 1. Gum Rubber
Volleyball shoes have a material known as gum rubber for outer soles. It is a very soft kind of rubber that not only helps you move with ease and comfort on the court but also protects the court against any skid marks or possible damage. These soles are super lightweight and soft hence, they help increase your efficiency and flexibility. As a result, the chances of you getting hurt during a match are greatly reduced. However, tennis shoes don't have gum rubber as a result they are hard and heavy. As a result, they will damage the volleyball court like no other.
2. Mid Soles
The midsoles of proper volleyball shoes are soft and flexible. Plus, they provide very strong protection to your feet. Thus, as you go about playing volleyball, the chances of you twisting your ankles or getting hurt are minimal. Volleyball shoes have a foam gel mixture or air cushions that provide extra support to your upper foot. Whereas, tennis shoes have no such feature.
3. Weight
The weight of your shoes matters a lot when you are playing volleyball because it is a type of game that requires quick and efficient movements on your part. In such a situation, shoe weight should be the least of your concerns. So, volleyball shoes are an ideal option for you because they are a lot lighter than tennis shoes. They will help you move around the court with ease and the efficiency of a gazelle.
Difference Between Tennis Shoes and Volleyball Shoes
After having a detailed discussion on the sport and the kind of shoes required to hit the ground to play, let's discuss tennis shoes Vs Volleyball shoes, and why the player must invest in dedicated shoes to secure the playing comfort.
Is It Safe To Wear Tennis Shoes While Playing Volleyball
Tennis shoes are not the best option for playing volleyball. While they may offer good cushioning and support, they are not designed for the quick lateral movements and jumping required in volleyball. Volleyball shoes have specific features such as gum rubber soles, lightweight materials, and extra padding in the forefoot and heel. Wearing tennis shoes for volleyball can increase the risk of ankle and knee injuries due to a lack of stability and grip on the court.
Using Volleyball Shoes For Tennis
Using volleyball shoes for tennis can have both pros and cons. Here are some points to consider:
Pros of using volleyball shoes for tennis:
Traction: Volleyball shoes are designed to provide excellent traction on indoor courts, which can also benefit tennis players. The grippy outsoles help to prevent slipping and allow for quick lateral movements on the tennis court.
Lightweight: Volleyball shoes are typically lightweight, allowing for faster and more agile movements on the tennis court. This can enhance your speed and responsiveness during gameplay.
Cushioning: Volleyball shoes often feature ample cushioning in the midsole to absorb impact and provide comfort during intense movements. This can help reduce the strain on your feet and joints while playing tennis.
Cons of using volleyball shoes for tennis:
Durability: Volleyball shoes are primarily designed for indoor use and may not be as durable when used on outdoor tennis courts. The outsoles may wear out faster due to the different surfaces and conditions encountered in tennis.
Lateral Support: While volleyball shoes offer good lateral support for side-to-side movements, they may not provide the same level of stability and support required for the specific demands of tennis, which involves frequent changes in direction and abrupt stops.
Specific Features: Tennis shoes are designed with specific features tailored to the sport, such as reinforced toe guards for durability during serves and toe drags. Volleyball shoes may lack these specific features, which could impact performance and longevity on the tennis court.
Conclusion – Tennis Shoes vs Volleyball Shoes
So, this was all from my side. I hope you now know that it is absolutely imperative to wear a proper set of shoes for volleyball. You can not wear basketball shoes, running shoes or even tennis shoes for volleyball. The reason is quite simple, the needs and foot movements in a volleyball game are totally different from any other sport. Then what good would it do you if you try to save a few pennies only to fail at this game?
FAQs
1. Are tennis shoes good for volleyball?
Like any other sport, volleyball comes with its own baggage. It means that you will have to fulfill its own requirements and get all the necessary equipment for that particular game. Just as you need to wear a bathing suit for a swim, you need a proper set of volleyball shoes for volleyball. Any less, and you will have to suffer the consequences!
2. Can you wear running shoes to volleyball games?
No, you can not wear running shoes for volleyball because they are incompatible with this game. Running shoes are heavy and the outer soles are too harsh for the volleyball court. As a result, these shoes can cause irreparable damage to the court. Not only that, the stiff material of running shoes will hinder your performance and may injure you if you move too quickly. So, if you really want to up your game and progress in this sport then your first step should be to get yourself a proper pair of volleyball shoes.
3. Are volleyball shoes suitable for walking?
Yes, you can wear volleyball shoes for walking. You will be very comfortable though. However, you won't be able to use those shoes for playing volleyball again. This is because concrete and mud will stick to your volleyball shoes and wear them out faster. Plus, the grime and mud will damage the volleyball court as well. So, I would not recommend you to wear volleyball shoes for walking. It would be better if you get a separate pair of shoes for walking.
4. How often should you get new volleyball shoes?
Volleyball shoes don't come with an expiry date so it is hard to tell when your shoes will wear out. However, based on my own personal experience with volleyball shoes I can assure you that you can keep on using your volleyball shoes for years if you take good care of your shoes. By taking good care, I mean you should clean them regularly and only wear them while playing volleyball on the court. The number one rule to prolonging the lifespan of your volleyball shoes is to not wear them for any other activity or sport no matter how minor it may seem!