Are you also confused about Tennis shoes Vs Volleyball shoes? Ever wondered if you can use Tennis shoes, which are trainers or also called sneakers, for playing different games without putting your comfort at risk?
Let's find out in detail.
To reach the professional gamer title, players must sharpen their fitness and gaming skills. Gaming skills can be enhanced with practice, knowledge, and cognitive functions, but maintaining physical health can be challenging, especially for tennis and volleyball players.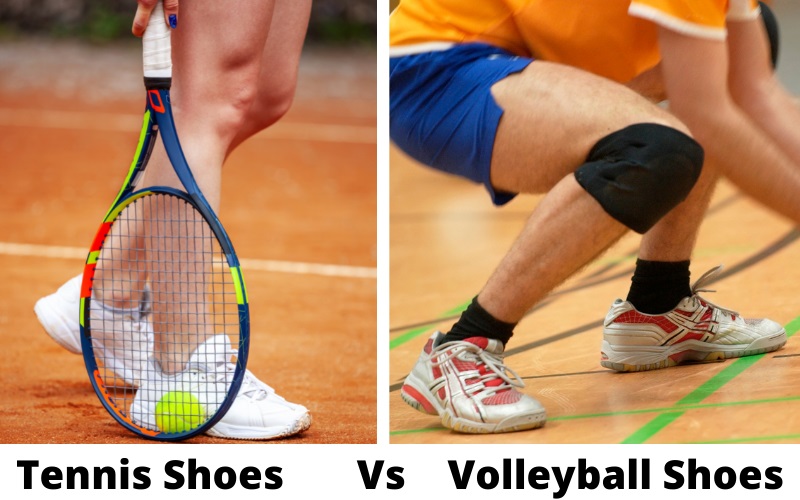 Players must consider many factors like constant gyming, healthy protein intake, and an overall appearance while playing games. Apart from that, a dedicated outfit and shoes that make them comfortable throughout the session can decide the game's fate. Hence, whether you play Tennis or Volleyball, you should have a sound knowledge about shoes that can provide confidence and comfort. Thus, we will highlight Tennis shoes vs Volleyball shoes and briefly discuss what makes them different.
Tennis Shoes
Since Tennis is an interesting racket sport that can be played with two opposing players or teams of players, it involves lots of running, a ball bouncing, hitting a ball of a specified size with concentration, etc.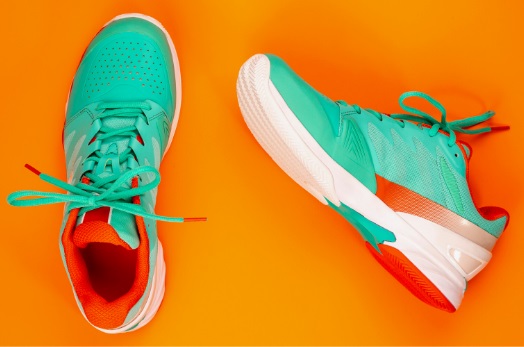 A player needs to it the ball with a racket against a net and return it with the same consistency, so the player does not have time to deal with the outfit and shoe negligence. Here come the specially designed tennis shoes known as trainers, sneakers, and athletic shoes. Interestingly, these shoes get a label of Tennis shoes, but you can wear them while playing different games or just run around a town with the next-level comfort. However, tennis players are mandatory to wear them while playing.
Tennis shoes are typically flat with patterns on the sole, designed specifically according to the court surface you have to play. They are made with less padding and cushioning, so the player feels relaxed while they wear them and concentrate on the sport. In addition, as compared to other shoes, Tennis shoes are relatively slimmer to protect the player's ankles, and fixed overpronation protects the player's feet while running, foot rolling, and other concerns.
Volleyball Shoes
Volleyball shoes are designed differently than Tennis shoes for obvious reasons. They are designed to provide comfort while running because Volleyball is all about passing, digging, serving, and running.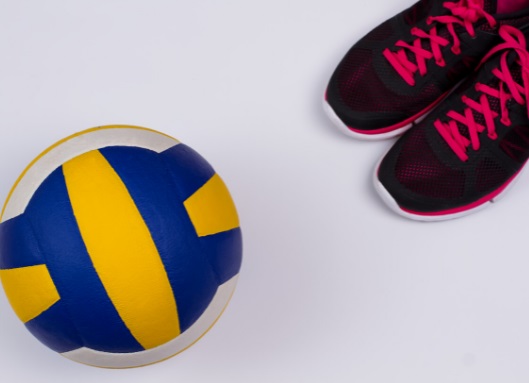 Volleyball is another exciting sport but involves more players than the Tennis sport. When striking a ball back and forth or passing it to the other player, a player wouldn't have time to think about what he is wearing and why it is not comfortable. So, it is better to invest in shoes designed specifically for Volleyball.
The shoes protect the Volleyball player's feet give them the constant grip they require on the surface. Volleyball shoes are divided into rubber soles, mid-sole, and upper sections. The rubber sole is made of gum material to ensure exceptional traction on the floor. It also reduces the chance of ankle injuries, whereas the midsole offers constant support to the foot's ball. You can find many midsoles in foam material, gel, or cushions because the players need to make quick or flexible movements and jumps.
Difference Between Tennis Shoes and Volleyball Shoes
After having a detailed discussion on the sport and the kind of shoes required to hit the ground to play, let's discuss tennis shoes Vs Volleyball shoes, and why the player must invest in dedicated shoes to secure the playing comfort.
Tennis and Volleyball Sports
Tennis and Volleyball are sports with many similarities but many noticeable differences simultaneously. Both sports involve lots of quick movements, jumping, and running that can hurt the feet if they are not protected. We assume you know the nuts and bolts of the games and their set rules and jump to the shoe's selection process. Since the sports shoe history emerged under the sneakers category, the shoes have been securing labels.
Therefore, the athletes are suggested to wear dedicated and specially designed shoes according to their sport to boost productivity and minimize injury risks. Let's quickly discuss tennis shoes Vs Volleyball shoes and help you gather information to reach the right shoes at the right time.
Soles
Tennis shoes are made with an aggressive sole for the required traction and firm grip on the court. However, the soles of Volleyball shoes are made of gum rubber for good traction on the court and reduce the injury risk.
Both soles ensure you never lose the balance in court and never face any slipping risks considering the court's nature. In addition, the sole of Tennis shoes gives constant movement support to the player by keeping their feet fat and protected.
On the other hand, the midsole of Volleyball shoes gives cushioning and rapid side-to-side motions on the court surface without losing balance. In short, the soles of both shoes are designed according to their respective courts.
Shoe Design and Weight  
Tennis shoes look attractive while wearing because they seem elegant, but they are relatively heavy than the Volleyball shoes due to the leather material to ensure stability.
Whereas the big Volleyball shoes may be big or heavy to wear, they are lightweight and won't feel like wearing while jumping or moving on the court surface.
Price
Considering the heavy and leather material used in the Tennis shoes, they are slightly more expensive than the Volleyball shoes. But they are worth spending every penny for the comfort, protection, and relaxation it provides to the player.
Conclusion
Tennis and Volleyball are exciting games to play, and they can be more fun when you have the right equipment, especially the outfits and shoes. The main factor of playing the game is investing in the right pair of shoes according to the sport to feel comfortable and play at your full potential.
This article has discussed Tennis shoes Vs Volleyball shoes, highlighting the similarities and differences for better understanding.